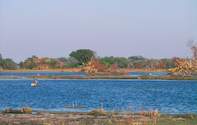 © Lee Kemp
Safari companies stress the need to protect the environment for future generations and yet are caught up in the capitalistic / materialistic management of human affairs.
As a company grows and faces new challenges the perceptions of the players change with the challenges. Ideals are forgotten in this progression.
Even the most principled turn to environmental squander over time as the wilderness is colonized by the 'new ideal'. Luxury lodges are competing for the pages of glossy design magazines. It is no more about the wilderness experience. It is now about how the décor inspires. Once proudly proclaiming the ultimate wilderness journey, companies are slipping into the fast-flowing stream of materialism.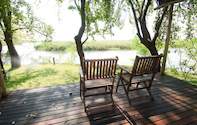 ©Shem Compion
Individuals who arrogantly proclaimed their principles were melded with the dust of Africa are succumbing to the sensuous flirtations. With their stamp of approval at each stage of development the river of degeneration flows faster. The wilderness experience is becoming a sterilized shadow of what it should be!
An example: Ten years ago [in the early nineties] Camp Okavango in the Okavango Delta was looked upon as a monstrosity, out of tune with the environment. Today one of the main critics are about to enter into an agreement with the owners of the aforementioned camp to use it for their low-cost travelers.
It is a sad statement when guests want to cancel a booking at a lodge long considered to be top of the pile and replace it with an establishment 20 km away because a leading magazine has rated the style ahead of the other in a poll.
Leigh Kemp