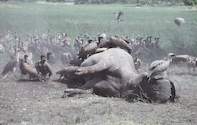 © Lee Kemp
Mankind has evolved to a place we sit in judgement of all we do not agree with, but the wilderness provides us with a mirror of what we have become over time.
Of Vultures, life and the meaning thereof
Bowed, in forced patience
through the heat of days
and into the silences of night
the dictate of life's thread
At a signal,
an orgy, of ill manners and impatience
one for himself before all
before the majesty of the thermals
but we cannot fly and in time
only reminders in bones
An aged buffalo, hyenas and life
Bones scatted across the wilderness
a reminder of the savagery
we have evolved from
Aged, limping

a weak, easy target torn apart
his bellows of distress unheeded
but by the scavengers

preying on his suffering
We have advanced
beyond the savagery
for we gave him a burial
Lessons of the Wilderness
We have become a species that uses the wilderness as part of the giant theme-park that is our development, with no attachment save for the yearning to use it as an ego boost. The wilderness, however, provides a reminder of where we came from and how little our behaviour has changed.
Leigh Kemp