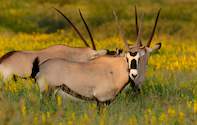 © Shem Compion
Botswana is one of Africa's great game destinations. More than 17% of this country is devoted to National Parks or Game Reserves.
Over 80% of Botswana is part of the immense former desert known as the Kalahari. It is a semi-arid region of grassland or thorn trees where rainfall is erratic and exceeded by evaporation in every month of the year. The Okavango Delta aside, there is no permanent standing water.
Wildlife in Botswana National Parks has been attracting international interest for more than 150 years: first trophy hunters, then, increasingly, those who hunted for gain. A potent mix of politics, power, fear and greed-fueled the unscrupulous slaughter of game by locals and Europeans alike, so that by 1890 animal populations had reached an all-time low. The remaining large mammals were mostly wiped out by a rinderpest epidemic in 1895-6. Relatively little game survived into the 20th century. However populations did recover, although elephant numbers failed to reach former levels until about 1968.
Botswana's first modern controls on game appeared in 1900, when foreigners in the British Protectorate of Bechuanaland were required to obtain a licence to kill elephant (local Batswana people still needed permission from their Chief). Conservation development in Protectorate times was exceedingly slow and seems, in retrospect, to have been the result more of individual initiative than any over-reaching plan.
For example, in the 1930s the eccentric colonial administrator Colonel Charles Rey saw Chobe's potential and wanted to preserve it. However, the area was not finally protected until the 1960s, and declared a National Park only in 1968.
Today Botswana National Parks and Game Reserves are run by the Government through the Department of Wildlife and National Parks (DWNP) which employs more than 1200 people in five divisions: Parks, Research, Conservation Education, Management and Utilisation, and Community Services.
Botswana National Parks Conservation Policies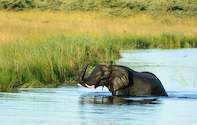 ©Shem Compion
National Conservation Policies for Botswana National Parks were formulated in the 1980s, spawning the philosophy of 'Low Volume, High Returns'. This stood on critical fundamentals: a desire to avoid mass tourism and to maintain an exclusive, quality product; and a recognition that, at the time, the country lacked the human and system resources to manage the rapidly growing visitor numbers and thus would not be able to protect the resource. 'Raise the price, reduce the numbers,' went the thinking. This philosophy still holds.
Forty years ago conservationists first called out 'Use it or lose it'. Certainly Botswana's wildlife is now beginning to make money for the exchequer and there seems little doubt that revenues will grow steadily. Revenues all accrue to central government, which funds an operating budget of over US$1 million. In addition, donors support some research and development initiatives.
The European Union, Norway, Holland and the United States are all generous contributors. Revenues have expanded dramatically in the last decade and are now in the region of US$2 million a year, with around 170,000 visitors annually.
While the desire to maintain the quality of the wildlife experience remains, human resources have improved dramatically and systems are more robust and dependable. Many graduates are now employed and innovation is taking place.
Examples of this include the extremely popular Botswana 4x4 trails, the Transfrontier Park, the anti-poaching activities of the Botswana Defence Force and carefully regulated private sector involvement both in and outside Botswana National Parks. Privatisation of DWNP itself is probably accepted in principle, but how much and when remain to be decided.
Botswana earns itself a certain amount of regional opprobrium for what some see as unreasonably high Botswana National Parks entry fees. For one night in a Park, an independent South African family of four will spend close to R900. Officials in Botswana acknowledge the cost but point out that to a similar group of visitors from the UK or USA such experiences, costing something less than £100, seem good value.
Botswana is one of the world's leading diamond producers and one of Africa's wealthiest countries. However, over-dependence on a single commodity is economically unsound and Botswana knows it must take every opportunity to diversify its economy. Wildlife is such an opportunity: diamonds may not be forever.
Hidden Gems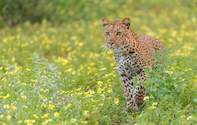 ©Shem Compion
Mention Botswana and most people think of the Okavango Delta. This seemingly limitless wilderness of flood plains and papyrus-flanked channels justly attracts many visitors. For bird life and predators it is unparalleled. I have photographed leopard, lion, cheetah and wild dogs, all in a single morning. I especially like the northern area of Chief's Island, which is a private concession area where you can observe the game undisturbed by other people.
But it is the wilder, less visited parts of Botswana that I find the most exciting. Nothing can rival the shimmering image of an elephant, plastered ghostly white in Kalahari dust, emerging from the heat haze at Nxai Pan; or the play of golden light on a herd of springbok skittering away into the desert; or the startling pink flower of a Brunsvigia lily in an area that appears to defy any life or colour.
The discovery of a solitary gemsbok lost amidst the empty waste of the Kalahari feels far more rewarding than an easy view of a lion in a game-rich area. To reach the Kalahari's soul, head for the Tsodilo Hills and search for 1000-year-old bushman paintings on the remote rock walls.
By Mike Main & John Warburton-Lee

Established 1963. 3900km2; Moremi is the first sanctuary in Southern Africa created on its own land by an indigenous tribe. Combined with the Okavango Delta, the wildlife area now covers about 22,000km2.
Guide to Moremi and Guide to Okavango Delta

Chobe National Park boasts concentrations of up to 50,000 elephant. The flood plain of the Chobe River provides a stunning backdrop for these vast herds and in the hills overlooking the plains, there are roan, sable and one of the highest concentrations of kudu in Africa.
Guide to Chobe

Combining the 39,000km2 Makgadikgadi National Park and 21,000km2 Nxai Pan Reserve has created a vast, unfenced park about the size of Portugal. It's 4x4 country that requires cautious driving.
Guide to Makgadikgadi