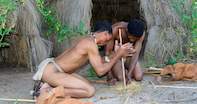 © Shem Compion
From the book Insiders Guide to Botswana by Ian Michler. Photographer and author.
Botswana Culture and Routes
Local Art
From bushman rock art to contemporary local artists of Botswana

Learn to Speak Setswana
Some handy words and phrases for the traveller

Religious Traditions
Marriage, birth, life and death and myth

Old and New
Photo essay of the juxtaposition of modern technology to rural settlements
The History of Botswana
A History of Peace
From 2000BC to the present day
Modern-day Botswana
Life, politics and aspirations of the people
From Dung to Diamonds
The economic rise from just rural, to an African diamond mining giant
Proud, strong-willed and resourceful, the people of Botswana are certainly the life and soul of their country and the major reason for Botswana's...
more
Botswanas history is is nowhere near as turbulent as other African states. Today, with a stable economy, and an equally stable society it is one of......
more