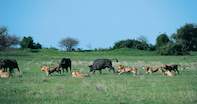 Botswana is unique when it comes to African safaris, with fascinating landscapes unlike anywhere else on the continent and beautiful ecosystems supporting a myriad of wildlife. This is truly the place for a safari with a difference.
Botswana does not have the postcard landscapes or rolling savannahs of the so-called
traditional African safari
companies but what is does have are some of the most incredibly beautiful and fascinating regions on earth where wildlife abounds.
The Essence of Botswana
But what is it about Botswana that makes it one of the top safari countries to visit? Botswana is a place of contrasts, a place where crystal clear water forms an oasis in a great desert, and it is a place where rivers do not flow to the seas but rather spill out on the deep desert sands. Here is a place where the dust is settled by floodwaters at the height of the harsh dry season.
Botswana is the scent of dust mingling with the scent of water and new grass. Botswana is the sight of lush green floodplains flanked by bare windblown verges and Botswana is the scent of lush aquatic vegetation and the sounds of aquatic creatures celebrating a flood at the height of the dry season.
But most of all Botswana is about Africa as it was 100 years ago.
Miracle Rivers of Botswana
Botswana is about miracle rivers that flow into the desert, forming lush plains in the arid environment before disappearing into the sands of the Kalahari Desert. Two of Botswana's rivers never reach the sea, instead indicating the great inland lake that most the rivers of the area used to flow into before tectonic movement changed the shape of the landscape some 10 000 years ago.
The Okavango rises in the highlands of Angola where most the water in the system comes from, taking six months to reach the delta and creating the floods in the dry season concept that makes the delta so unique.
The Savute is a river that has its source in another of Botswana's fascinating waterways, the Linyanti, and also spills out in the deserts sands where it creates a lush marsh that attracts animals in numbers.
Unique in Africa
Botswana's wildlife compares with anywhere on the continent but the country's topography is unique and has a look and feel like nowhere else. Here animals that usually shy away from water use the waterways to their advantage and others that cannot usually go without water have adapted to not drinking water at all, instead getting all their moisture from the food they eat.
Here is truly a country with something different and special to offer, a country whose essence is difficult to define, but has to be experienced to be appreciated.