Botswana safari tours
in Okavango Delta, Chobe National Park and Central Kalahari present you with an enticing variety of exciting possibilities. These Botswana safari package holidays vary from guided camping to absolute luxury in the best
Botswana safari lodges
. What ever your choice, you can be assured of an unforgettable and magical journey.
Just 2 hours away by air, from Cape Town or Johannesburg. The African safari destination of choice for both the discerning traveller and the hard-core adventurer has to be Botswana.

Classic Botswana tours follow the traditional style of "being on safari". Comfortable without being over done. These Botswana tour packages are perfect for the first-time visitor to Botswana, and are the most affordable and a great way to see wildlife.

Luxury Botswana Safaris
Looking for the more refined safari experience?
Luxury Botswana safaris
offer a touch of style and elegance in the remote beauty of the wilderness. After a day of game viewing, enjoy a candlelit dinner back at a luxury Botswana safari lodge.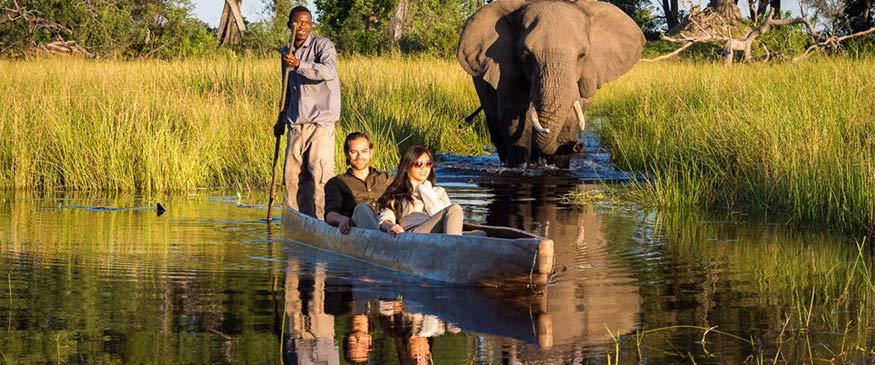 Honeymoon Safari in Botswana
Our
Botswana honeymoon safaris
offer beautiful escapes to some of Botswana's finest safari lodges. With a wilderness experiences to suit every taste, this will be one of those unforgettable moments...

Chobe River House-boat Safari
Surely the most serene and surreal of safaris in Botswana.
Cruise the Chobe River on a house boat
. The class is deluxe, the experience incredible. Game viewing by boat with an occasional island walk.

Only the best will do. No expense or effort is spared to present you with the very best in premier Botswana tours. Combining luxury lodging and excellent service with tailor-made activities assures you.

Before embarking on your Botswana safari tour, reading up on Botswana Wildlife Behavior will enhance your overall experience. Take note of the behavior of an individual or a group of animals... hear the sudden silence of the birds... observe when all the animals suddenly freeze... This could signal the stealthy approach of a predator.
Observe the communal spirit of an elephant herd, discover the abundance of bird-life with many endemic species. It's all possible on your Botswana wildlife safari tour.

Discover the Okavango Delta your way. Whether it is by mobile safari or luxury lodge fly-in, you will discover why this most sought-after Botswana safari destination:
Chobe National Park in Botswana is the premier safari destination for elephant enthusiasts. It is also just a short drive from the majestic Victoria Falls. See our best Chobe safari packages:
Moremi Game Reserve in the Okavango Delta offers game viewing and bird watching by game drive, unique mokoro (dug-out canoe), or boat that is unbeatable. Moremi has one of the largest populations of wild dog. You can also see lion, buffalo, hyena, elephant, leopard, zebra and much more. Wilderness trails and viewing from hides are possible at certain camps:
The Climate of Botswana is the same as throughout semi-tropical Africa. There are only two seasons - the rainy reason, and the dry season. It is important to note this fact because the Best Time to Visit Botswana is governed by the weather and animal movements.
Discover the best Botswana safari trip destinations and all the best activities and attractions to see along the way. Get answers to your frequently asked questions and advice on the best Botswana self-drive routes, making your Botswana safari trip a successful and memorable one!
Experience Botswana with us. Our