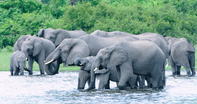 Okavango Delta is a large inland delta and is one of the most popular Botswana safari tours destinations. This scenic natural wonder can be reached by road or air safaris that offer spectacular views of the Okavango Delta.
The crystal clear waters of the Okavango Delta sets the scene for an unforgettable and unique safari. The delta is best explored on a leisurely mokoro dugout canoe cruise through the Okavango channels to witness the magnificent fauna and flora. The roamers at the Okavango Delta includes lion, cheetah, leopard, and African wild dog.
Okavango Delta accommodation is offered at luxury lodges in Botswana. Activities in Okavango Delta includes mokoro rides, bushwalking safaris and traditional game drives. See below for Botswana safari tours in Okavango Delta.