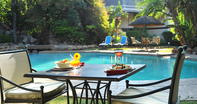 Francistown is located in eastern Botswana and is the second largest city in the country. Often referred to as the Capital of the North, Francistown can be accessed by road and air transfers. This vibrant destination is perfect for an overnight during a luxury African safari.
At Francistown, the remains of the Botswana gold rush tells the story about the discovery in the city and can be viewed at the museum. This Botswana city is close to the Tati and Inchwe River confluence, a few kilometres from the Zimbabwe border. The city can be self-explored and is home to restaurants and supermarkets.
Francistown accommodation is offered at luxury game lodges and hotels. Francistown activities include sightseeing, cultural tours and many more. See below for Botswana hotels in Francistown.