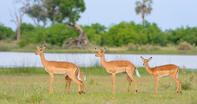 Savute is tucked away within the spectacular Chobe National Park in Botswana, and stretches all along the northern boundaries of the park to the Linyanti River. Savute was dry and waterless for almost 3 decades, and artificial waterholes nourished the wildlife. Now up and running again, it offers an excellent base for Botswana safari tours.
Savute's spectacular landscapes are covered with lush vegetation and marshlands, where an abundance of wildlife freely roam. The highlights of Savute includes the majestic zebra migration from the northern sections of Botswana, the rocky outcrops of the Gubatsa Hills, a myriad of birds and incredible wildlife. Among the species of wildlife that can be spotted throughout Savute includes lion, hyena, buffalo, elephant and zebra.
Savute accommodation is offered at luxury lodges in Botswana. Activities in Savute includes game drives, birdwatching and bushwalking. See below for Botswana safari tours in Savute.
Read more on Savute safari packages