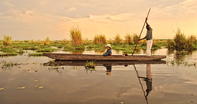 Linyanti is a private reserve that borders the western section Chobe National Park, ideal for Botswana safari tours. Linyanti is a picturesque African safari destination and can be accessed by scenic road or air transfers.
Linyanti is surfaced by stunning floodplains, palm islands, and lush grasslands. This private game reserve is renowned for its unfenced border with the Chobe Park and the abundance of free-roaming elephant. Other spectacular wildlife that can be spotted in Linyanti includes Cape buffalo, eland, giraffe, hippo, impala and zebra.
Linyanti accommodation in Botswana is offered at a range of luxury lodges that feature modern room amenities. Activities in Linyanti includes game excursions, bushwalking safaris, birdwatching and river cruises. See below for Botswana safari tours in Linyanti.