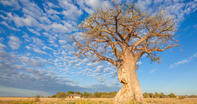 Nxai Pan National Park is a conservancy located in the north-eastern section of Botswana, that comprises of the Nxai Pan. This large salt pan forms part of the greater Makgadikgadi Pans, also located in north-eastern Botswana. Nxai Pan is a fossil lakebed and access to this natural wonder is by air and road transfers.
The seasonal rainfall over the grassy plains of Nxai Pan National Park attracts large herds of wildlife that migrate from the south. Predators lurk to the pans to stalk their prey, and results into an unforgettable wildlife experience for visitors. Nxai National Park is renowned for being a seasonal home to large population of zebra, cheetah, elephant and its spectacular acacia vegetation.
Nxai Pan National Park accommodation is offered at luxury safari lodges in Botswana. Activities in Nxai National Park includes game drives, bush walking safaris, and many more. See below for Botswana safari tours in Nxai Pan National Park.
Read more on Nxai Pan safari lodges