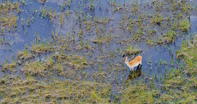 Moremi Reserve is located in the eastern section of the Okavango Delta and is an excellent Botswana safari tours destination. This wildlife reserve partially covers the eastern part of the renowned Okavango Delta, and can be accessed by road and air transfers. The reserve was named after Chief Moremi of the BaTawana tribe and offers a cultural and an extraordinary wildlife experience.
Moremi Game Reserve is one of the most spectacular wildlife conservancies in Botswana, where an abundance of wildlife move around freely. The unique landscape of Moremi Reserve features dry ecosystems as well as wetlands. Moremi Reserve attractions include Chief's Island that can be accessed by mokoro safaris. Among the roamers of the bush are the Big Five - rhino, lion, leopard, buffalo and elephant. The reserve is also home to a profusion of bird species.
Moremi Game Reserve accommodation is offered in luxury safari lodges in Botswana. Activities in Moremi Reserve include game drives, bush walking safaris and birdwatching. See below for Moremi Reserve safari tours in Botswana.