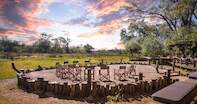 At Saguni Safari Lodge experience the watery wonder of Botswana's Okavango Delta, located right on your doorstep.
Saguni Safari Lodge Experience
The Okavango Delta supports some of the largest and most diverse populations of birds and animals in southern Africa, and one of our most favourite places from which to experience it all, is Saguni Safari Lodge. Set in Moremi East in the Delta, this camp is idyllically nestled on a lone-island, quietly overlooking the Mbudi Lagoon.
Also referred to as Khwai, this is a notoriously game-rich area, and just the place to be if you're wanting to be at the heart of all the game-viewing action. Its a great spot offering spacious Okavango Delta accommodation in a variety of luxury and standard tents which makes up its 'lodge' setting. Each is fully furnished for comfort, whilst still retaining that authentic and convivial safari feel. Oftentimes you'll even witness a few animals casually wandering through the camp to say "hello".
As for activities, Saguni Safari Lodge offers open vehicle photographic safaris, traditional mokoro trips, walking safaris, and day-time game drives. While out exploring, keep a lookout for the favourites; lion, cheetah, leopard, African wild dog, elephant, buffalo, hippo and giraffe. Up the ante on a night drive, and switch up the itinerary with a cultural visit to a local San village.
If all that still doesn't have you completely sold, we'll also mention that staying at Saguni Safari Lodge means that you will also be supporting its dedication to retaining eco-friendly standards. Apart from its low carbon footprint, it also runs on an efficient sewage and wastewater treatment system, while the solar farm falls right in line enables minimal impact on the environment.
Why We Love it and You Will Too
Join Saguni's knowledgeable guides on safari walks where they will teach you all you need to know about tracking animals, and which plants can be used as natural remedies.
Float past crocodiles basking in the sun on a mokoro (a traditional dug-out canoe) ride, or park at a waterhole and watch the ellies of the Okavango Delta splashing alongside the waterways and palm-strewn islands.
Aside from morning and evening game drives, bush walks and mokoro rides, experience the fascinating culture of the San people with an exclusive visit to a local village.
Take your pick from spacious luxury and standard tent-style Okavango Delta accommodation with all the modern amenities to complete your stay. There's definitely no skimping on comfort at Saguni!
The food at Saguni Safari Lodge is something to write home about. Expect only the freshest ingredients, along with a varied menu, and the most incredible bush dining locations.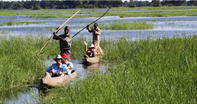 This Way to Your Room
Instead of frills and fluff, you'll discover some serious comfort at this Okavango Delta accommodation. Saguni Safari Lodge offers luxury and standard tents, with either twin beds or a conversion to a double bed. Each tent is carefully crafted with using wood and canvas to emphasise a free-flowing space, well-positioned for your privacy and seclusion.
All tents at Saguni Safari Lodge feature a luxurious en-suite bathroom, along with roll down canvas walls, a private timber deck and close up-front view of the riverfront, surrounded by riparian trees. Here at Saguni, you can effortlessly live side by side with nature, whilst still enjoying absolute comfort.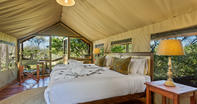 Saguni Safari Lodge's Top Activities
Move alongside nature on a traditional mokoro or amble out to experience the thrill of a night drive. Saguni offers more than a few ways to witness Mother Nature at her best.
Go Galavanting on Game Drives
Head out an open safari vehicle to explore the varied vegetation this incredible World Heritage site. Saguni's exceptional Safari guides will take you to areas of outstanding game viewing, most notably, the Khwai Concession, a 180 000 hectare reserve set in the northeastern Okavango, adjacent to the Moremi Game Reserve. There is plenty to explore in both areas, from herds of elephant, buffalo, lion, leopard, cheetah, and African wild dogs, to hyena, giraffe, zebra, and wildebeest.
Step Out Into Nature
On a bush walk with one of Saguni's expert tracker guides, you'll have the opportunity to get closer to the smaller creaters that inhabit the Delta area. This is your chance to really immerse yourself in the natural, observing finer details of the fauna and flora that you might not see on a game drive. You'll learn how to navigate the bush, tracking scat and spoor and learning about the medicinal uses of indigenous plants and trees.
Tuck In!
One thing we must also mention about Saguni Safari Lodge is their food! Expect a high standard when it comes to meals served outdoors on the decking area or in the warmth of the dining room, and made with love and only the freshest ingredients. You will never go hungry, with an abundance of food at each meal, along with snacks during your safari activities and of course, during high tea, served every afternoon. Dinner is especially a sociable affair whereby you can also partake in an after-dinner drink around the blazing campfire.
Meander Out On a Mokoro
One thing you simply must do while in the Delta, is experience a ride on a tranquil mokoro (a traditional dugout canoe). At Saguni, one of their guides will lead you along the Mbudi water channels of Khwai (also known as the Sable Alley system of the Khwai River). Like the bush walks, this is also an opportunity to get closer to nature, as you can quietly move along, listening to bird calls and the tinking of the reed frogs.
A Dose of Culture
While seeing the animals of the Delta is an incredible experience, a trip into the San community of Khwai is not to be missed. As the original inhabitants and hunter-gathers of Southern Africa, the San lived for millennia as independent hunters and gatherers. Learn more about this unique culture while you witness traditional 'trance' performances with cultural songs.
Getting to Saguni Safari Lodge
Saguni is located in Moremi East within the Khwai Concession. The lodge is easily accessed by road or with a charter flight. By road the journey is 150km from Maun and is an easy drive for a 4×4 vehicle. The nearby Khwai airstrip is 20 minutes' drive from camp. This airstrip may be used by any charter company and we can assist with booking your itinerary. Most guests fly in from Maun, Kasane or other Okavango Delta camps.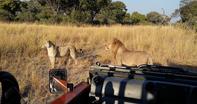 GPS Coordinates
S 19'08'03.30″
E 23'45'49.29″
Child Policy
Children of all ages are welcome at Saguni Safari Lodge.