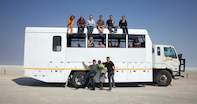 Explore the beauty of the Botswana wilderness on Mobile Camping Safari Holidays. Discover the vastness of the desert from the air, and the many animals that live in the parks whilst on your road-trip.
Mobile camping safari holidays are one of the best ways to experience the African bush. These safaris combine flying and driving in 4x4 vehicles allowing you to see large areas of Botswana. They are led by expert guides who will help you make the most of your trip. All camping equipment is provided.
Enjoying the knowledge of an expert game ranger
Camping out under the stars
Superb game viewing opportunities
Close encounters with the wildlife
Read more about the Mobile Camping Safari experience

This mobile camping tour is ideal for guests who dare to step outside of their comfort zone and enjoy a nomadic experience of the Okavango Delta, Chobe National Park and Victoria Falls.

Encompassing all the highlights of Botswana from the tranquil Okavango, to the wildlife spectacle of the Chobe region and including the mighty Victoria Falls.

This 9-day Botswana Adventure Tour of Okavango Delta, Chobe and Victoria Falls is ideal for travellers who want to experience no-frills Africa without breaking the bank.

This is the ultimate birding safari for twitchers, led by eminent bird guides; this tour covers some of the most spectacular landscapes in Africa.

From the Nxai Pans of the Central Kalahari to the Okavango Delta and Chobe region, explore some of wildest Africa on your safari, ending off at the spectacular Vic Falls.