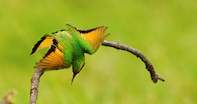 This 13 day Botswana Birding Safari Tour presents the greatest bird safari in Africa with some of the best birding guides in Botswana accompanying you. The tour departs only in January, February and March.
Botswana Birding Safari Experience
Botswana has some of the most beautiful landscapes in Africa. With the great diversity of plant species found here, large numbers of birds are attracted to this region.
There can be no better way to experience this birding wonderland than with a knowledgable and passionate guide accompanying you. This Botswana birding safari is the ideal tour to experience the best of African birding.
Birds are the most important aspects of a birding safari but an added plus of this adventure is the comfortable accommodations and having staff take care of your needs to enable you to concentrate on your passion.
Botswana Birding Safari Highlights
Only 3 departures a year during peak birding season January, February and March
Stay in basic tented accommodation
Enjoy the services of a professional guide and safari chef
Visit a variety of habitats from dry land to marshy back-waters
Excellent birding opportunities
See raptors like the African Hawk-Eagle, Tawny Eagle, Shikra and Gabar Goshawk
Spot Botswana's hornbills which include Red-billed, Southern Yellow-billed and African Grey
Encounter rare bird species like the Cuckoo Hawk and Slaty Egret
Exciting game drives in the Moremi Game Reserve and Chobe National Park
Explore the waterways of the Okavango Delta by mokoro (dug-out canoe)
Cruise the Chobe River by boat
Day 1: Johannesburg - Maun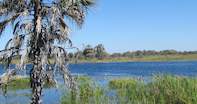 Depart Johannesburg and fly to Maun. After arriving in Maun from Johannesburg, a short drive will take you to Thamalakane River Lodge. This pre-tour accommodation is situated on the banks of the Thamalakane River and offers you a comfortable nights' stay before your birding safari.
Day 2: Maun - Moremi Game Reserve, Xakanaxa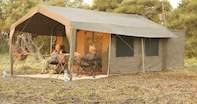 After an early breakfast depart for Maun Airport where you will meet your Botswana birding guide for the next few days. You will spend most of the day travelling heading north towards Xakanaxa. 40 km of the drive is in Moremi Game Reserve with a further 40 km in areas designated for wildlife management where animals roam freely to and from the Game Reserve.

It will be a good day for game viewing and birding. Arrive at your campsite in the early afternoon where you will spend the next few nights in comfortable and spacious tented accommodation with an private en-suite bathroom. (Breakfast, lunch and dinner included)
Day 3 - 4: Moremi Game Reserve, Xakanaxa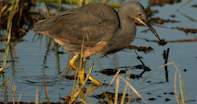 Moremi lies in the eastern extremity of the Okavango Delta, a place where the wildlife and birding are excellent. Moremi Reserve is known for its Elephant population and Painted Hunting Dog sightings. You may see large herds of Buffalo, which are closely shadowed by several prides of Lion.

Over the next 2 days you will enjoy game drives and delight in a motor boat tour along the waterways of the Xakanaka Lagoon, which is a wonderful experience - you may even spot the rare Sitatunga antelope and the rare Slaty Egret. The swampy areas of Xakanaxa are home to African Rail, Coppery-tailed Coucal, Black Coucal, Red-chested Flufftail, African Crake, Black Crake, Chirping Cisticola, Luapula Cisticola, Purple Swamphen, Allen's Gallinule to name but a few. (Breakfast, lunch and dinner included)
Day 5: Moremi to Khwai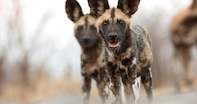 After an early morning breakfast, you will take a slow drive through Moremi Game Reserve towards the Khwai Community area with its Mopane woodlands, riversides and floodplains It is one of the most scenic areas of the Okavango and the slow game drive provides time to stop at the Dombo Hippo Pools, where you can enjoy the antics of these large pachyderms.

You may even see the endangered Wild Dogs in this area. Accommodation is again in comfortable and spacious tented accommodation with private en-suite bathroom. (Breakfast, lunch and dinner included)
Day 6 - 7: Khwai Community Area
The Khwai River forms the boundary between the Moremi Reserve and the community area. The following 2 nights will be spent at an exclusive campsite in the area. You will enjoy exciting guided game drives to see the regions large Buffalo herds, Tsessebe and Lions. Night game drives provide an exciting opportunity to see the regions nocturnal inhabitants, such as Aardvarks and Leopards.

The Khwai region is truly one of Botswana's best birding areas. Look forward to possibly spotting the uncommon Rosy-throated Longclaw. The river is also prime hunting ground for the Bat-Hawk and other raptors like the Cuckoo Hawk (rare), Long-crested Eagle and Black Sparrowhawk. (Breakfast, lunch and dinner included)
Day 8: Khwai to Savuti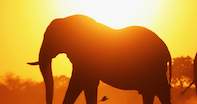 Today you will head further north en-route to the Chobe National Park where you will spend 3 nights at an exclusive campsite in the Savuti region, home to plenty of wildlife such as Zebra and Elephants. Your drive on this day will take you through all the different habitat types of Botswana.

This is also one of the best opportunities for you to see Cheetah. Birds that can be seen here include Trumpeter Hornbill, Crowned Hornbill, Verreaux's Eagle, Taita Falcon, Narina Trogon and Olive Woodpecker. Accommodation is again in comfortable and spacious tented accommodation with private en-suite bathroom. (Breakfast, lunch and dinner included)
Day 9 - 10: Savuti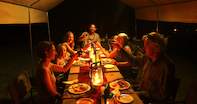 The Savuti Marsh has been the stage for many of the most dramatic wildlife documentaries in Africa. Large outcrops of volcanic rock reach out of the Kalahari sands and tower over the endless savannah. The area is famous for the interaction between Lion and Elephant.

There was a pride of about 30 Lion that at one stage hunted Elephant in the region, although this behavior has not been seen for a while. You will enjoy game drives and a walk to see ancient Bushman paintings. (Breakfast, lunch and dinner included)
Day 11: Chobe National Park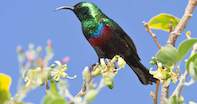 Leave Savuti early and travel even further north towards the Chobe River. Most of the day is spent traveling through the ever changing Botswana Landscape, from stunted mopane scrub of the Goha clay basin, across the sand-ridge, Zambezi teak woodlands and along the Chobe River.

he Goha region has natural waterholes that hold water into the dry season and herds of buffalo, Burchell's zebra, greater kudu and elephant come down to drink. Perfect day for game viewing and birding. Grey Tit-Flycatcher, Ashy Flycatcher, Paradise Flycatcher, Pallid Flycatcher, Scarlet-chested Sunbird, Amethyst Sunbird, Yellow-throated Petronia, Red-headed Weaver and Violet-backed Starling are only some of the species that can be seen en-route. (Breakfast, lunch and dinner included)
Day 12: Chobe National Park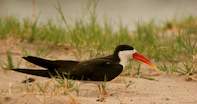 The day is spent exploring the Chobe floodplains on game drives. The Chobe floodplain is kilometres wide and stretches as far as the eye can see. Wildlife comes to drink in the early morning and late afternoon and will offer you amazing African wildlife sightings.

Breeding herds of elephant seem to be around every corner in the dry season and massive herds of buffalo. This is one of the highest lion densities of any National Park or Game Reserve in Southern Africa. (Breakfast, lunch and dinner included)
Day 13: Chobe - Kasane - Johannesburg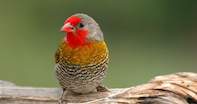 On the last day of your African birding safari wake up early for your last game drive that heads towards the town of Kasane. The final highlight of your birding safari is a 3 hour boat cruise along the Chobe River. Glide along the the Chobe River spotting a variety of wildlife coming down for a drink including hippo, crocodile and elephants as well as many bird species.

Large flocks of Great White Pelica, nomadic Red-winged Pratincole and also Black-winged Pratincole can be spotted. After your cruise your guide will drop you at Kasane Airport to catch a flight back to Johannesburg. (Breakfast included)
Included
Scheduled flight from Johannesburg to Maun
Scheduled flight from Kasane to Johannesburg
1 nights' accommodation in comfortable chalet with en-suite bathroom
12 nights' accommodation in spacious and comfortable tented accommodation, including beds, bed linen and towels, with a private bathroom en-suite
Services of a professional guide, safari chef and camp assistants, complete with a supply vehicle
Game drives and local transfers in customised safari vehicles
Exclusive camping in private campsites within the national parks and reserves
All entrance and camping fees within the national parks and reserves
All meals and drinks (mineral water, soft drinks, beer, wine and G&T) as per itinerary
All activities as specified in the itinerary including game drives, night drives, guided walks, mokoro excursion and boat cruise on the Chobe River