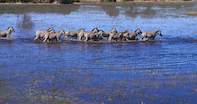 © Leigh Kemp
The best times to travel in Botswana merely depends on what you want to do - and what your budget is as Botswana is a year-round safari destination.
Game is easy to find in the dry season - but accommodation rates are high. In the wet season game is fairly dispersed because water is everywhere, and you may have to travel further to locate it, but accommodation rates are low. The summer is also the best time for birding in Botswana.
The Best Time to Travel
The peak time to travel to Botswana is during the winter months of May through to September. . This however, is not necessarily the "best time" to visit Botswana as there are areas that attract herds of game in the summer months when the grass is lush and there is plenty of water about.
It was always believed that the best time to visit Botswana was in the winter as the wildlife concentrates around the permanent water sources, but in recent years the summer months, when all the antelope give birth and the migrant birds have arrived, have become a popular time to visit and can also lay claim to the "best time to travel" to Botswana
Flooded Desert Rivers
Botswana is unusual in that some of the rivers are in peak flood at the height of the dry season - adding an extra dimension to a Botswana safari.
The world renowned Okavango Delta reaches its peak months after the last rains of the season have fallen in the area - due to the fact that most the Delta water comes from the highlands of Angola almost two thousand kilometres away. This provides a contrast of dry dusty surrounds and lush green waterways.
Wilderness areas are diverse, ranging from desert to wetland, from vast salt-pans to mighty rivers - and different species occur in these areas.
With such varied landscapes dictating the safari experience and the different activities that can be enjoyed apart from game-viewing, it all comes down to your needs and requirements.
Your best solution for a Botswana safari is a combination of areas with activities that match your interests whether they are birding, quad-biking, fishing, elephant back safari, mobile 4x4 camping or lap-of-luxury living.
Speak to a Siyabona travel expert about your desired experience, and you will be guided to the safari package that matches your wish.