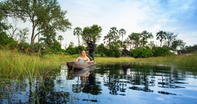 Mokoro ride past Gomoto Plains in Okavango Delta, Botswana.
If you love your big cats and are longing to witness those iconic herds of the African elephant, get ready to top up your bucket-list in Botswana. From the wildlife-rich Chobe National Park to the iconic Moremi Game Reserve and the watery wonderland of the Okavango Delta, these safari superpowers are set to reward you with out-of-this-world safari experiences.
If you're ready to get started, we've got just the right selection of hand-picked Botswana Safari Lodges options to complete your travel itinerary. Think ultra-luxurious Botswana safari lodges, wild and rugged bush camps and heart-meltingly romantic tent-style suites, the standards of dining, guiding and personalised service are top class.