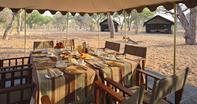 Chobe Under Canvas offers mobile glamping in Chobe National Park - stay close to nature, without leaving comfort behind.
Chobe Under Canvas Experience
Botswana's Chobe National Park is home to some of the largest elephant families in Africa, and we've discovered the best way to feel like you're almost part of the herd — a safari with Chobe Under Canvas. If you've never fancied camping, a few nights' stay in one of their super-spacious and luxurious tents will be sure to convert you.
Each comes with all the mod cons you could ever want and need on a safari: a private space to come home to every night with full turn down service every night. There's a comfy double bed, linen, fresh towels an en-suite bathroom with hot shower and a private veranda for sundowners.
Authentic, easy and comfortable and we haven't even mentioned the best part… What makes Chobe Under Canvas so unique is that it's a mobile camping in Chobe National Park experience, where the campsite location changes ever 5-6 nights with the help of a dedicated team. There's no better way to feel like you're moving right alongside nature, especially being so close to the Chobe River too.
There's little that compares with the experience of falling asleep to the nocturnal sounds of the bush, with lions roaring into the night. And the perks don't stop there. Staying inside the park gets you access to the animals well before dawn and until after dark, so prepare yourself for incredible up-close game-viewing on 4x4 game drives, and boat safaris along the river.
The guides have excellent knowledge of the area and its animals and birds, and you'll be sure to come across more than a few species of antelope (red lechwe, puku, bushbusk), zebra, and buffalo, along with predators such as lion, African wild dog, crocodile, cheetah, leopard and spotted hyaena never too far behind. During the rainy season, birdwatching is exceptionally good, seeing many migrants arriving in their thousands, upping the local birdlist to around 500 species.
Why We Love it and You Will Too
Exploring a variety of natural settings – the Chobe Under Canvas camp moves to a different Chobe site every five or six days, with the help of a dedicated and hospitable team.
Cruise along the Chobe River keeping watch for all sorts of animals such as giraffe, baboon, antelope and a rich variety of birdlife (500 species). Staying right in the park gives you an edge on game drives before other game viewing vehicles with visitors arrive, then again at night when they need to leave.
Revel in the rustic charm of camping combined with absolute comfort of full service, and an en-suite bathroom with a flush toilet and a steaming hot bucket shower.
Head out on a half day photography safari on a custom-built boat fitted with state of the art cameras for every passenger. A professional photographer will offer practical advice and tips for capturing those 'money shots'.
This mobile camp in Chobe National Park is open year round, and from the game-rich Chobe, you'll have easy access from Victoria Falls and an ideal opportunity to enjoy a cross-border itinerary from Botswana.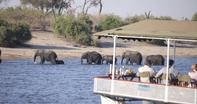 Your Accommodation
At Chobe Under Canvas, you'll find yourself tucked up each night under a specially designed mosquito-proof tent. Each comes well-equipped with a covered veranda leading in to your room with a comfortable double bed complete with comfy linen, fresh towels, and ample seating space. There's also an en-suite bathroom with a flushing toilet and hot water.
One of our favourite characteristics of this mobile camping in Chobe National Park accommodation is the shower, prepared using a bucket;a nostalgic nod to camping and keeping it simple (and effective). There are electric outlets available in each row of the safari vehicles, but you won't find any Wi-Fi, or air-conditioning — just absolute comfort and authenticity, out in the heart of the Chobe.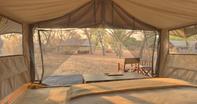 Chobe Under Canvas Top Activities
4x4 game drives and safari cruises await you, led by an expert team of professional rangers and tracker-guides.
Chobe Game Viewing
Enjoy morning and afternoon game drives with seasoned guides. Encounter lion, and spotted hyena frequently seen on the floodplains where red lechwe, puku, zebra, sable and roan often come out to graze.wild game. Witness those incredible super-herds of elephants, along with buffalo, and two antelope that cannot be seen anywhere else in Botswana: the puku and Chobe bushbuck.
Cruising the Chobe River
Nothing beats a private boat cruise along the Chobe River to explore the waterway's animals and birds, especially in the early morning or late afternoon with the sky brushed with a myriad pink hues. Gain a new perspective of the animals as they congregate around the river edge, splashing in the shallows. Keep an eye out for hippos, crocs, the Woodland Kingfisher, and the African Fish Eagle in its glory as it swoops down to the river to pry its next meal.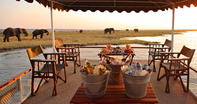 Bush Dining for the Win
The tented main area of Chobe Under Canvas offers a well-shaded social area with ample seating for relaxing during the day and a dining area with large tables at night. Here, the staff will prepare hearty Pan African meals cooked over the open coals, and serve fresh and flavourful sides, as guests chat about the highlights of their day, enjoying the warmth and light from the blazing campfire.
Photographers Boating Safari
Embark on the Pangolin photographic safari boat, especially tailored for both photography enthusiasts and the amateur wildlife admirer. The boat is custom-built and equipped with a 360 degree rotating chairs and state of the art cameras for every passenger.
A professional photographer and will also accompany guests on board to provide budding shutterbugs with practical advice on how to capture that perfect shot during their time on the cruise, as well providing interesting facts about the animals they zoom in on.
Getting to Chobe Under Canvas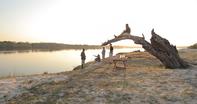 To get to the Chobe, there are scheduled flights to Kasane Airport, followed by a game drive to the camp, with game viewing en route. And are approximately an hour to an hour-and-a-half, depending on the location of the camp.
GPS Co-Ordinates
Latitude: -18.651359 Longitude: 24.363099
Child Policy
Children 12 years and older welcome.