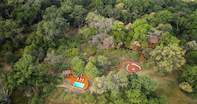 Your Camp Moremi Experience
Camp Moremi is one of three permanent, well-established camps located on the tip of the Mopane Tongue, in Botswana's wildlife-rich Moremi Game Reserve.
A safari in Botswana is not just about exploring the meandering waterways of the Okavango Delta, and Camp Moremi proves this.
Situated on the edge of the Xakanaxa Lagoon, this area is not only breathtakingly beautiful, but it is incredibly well-known for its spectacular land-based game-viewing opportunities. The chance to see animals is so good here that you barely have to leave camp. Fill your days at Moremi on heart-pounding morning and afternoon game drives exploring the plethora of ecosystems that the Moremi Game Reserve has to offer.
The Xakanaxa Lagoon and its surrounding channels are also ideal for boat safaris and offer you a chance to enjoy the picturesque waters of the Okavango Delta, depending on the water levels.
Possibly the best part about the main area of Camp Moremi is the viewing deck that looks westwards over the Xakanaxa Lagoon - yes, it's also the perfect spot for a sundowner! There's also a secluded swimming pool nearby, nestled in the surrounding bush, ideal for a late afternoon dip to wash off the dust from a day well-spent. Right after that, spruce up for the scheduled evening feast which takes place in the boma, or under the canopy of Jackalberry trees in the main dining room.
When the food coma starts to set in and your eyelids get a little heavy, make your way to your Meru-style en-suite tent, built on raised teak platforms with private decks. You'll find waking up at Camp Moremi really is something to look forward to...
Why We Love it and You Will Too
The staff are accommodating and friendly, setting the tone for a welcoming atmosphere at the camp. Desert and Delta are also committed to hiring only Botswana citizens as staff and management.
The Camp Moremi guides are also exceptional and will endeavour to find every animal you ask for during game drives and safari cruises.
Meals are eaten at communal tables with the other guests and the staff and guides also take the time to come over to sit with you for a while. However, if communal dining isn't your thing, you can request to be set up at a private table.
The rooms are tastefully decorated, maintaining an understated luxury with all the amenities needed for a comfortable stay.
The camp also features a small swimming pool with some sun loungers which is the perfect spot for relaxing in between activities.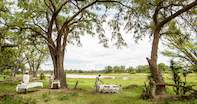 Camp Moremi Accommodation
Camp Moremi is located in a remote location in Moremi Game Reserve in the Okavango Delta and offers Meru-style tent accommodation raised on wooden platforms.
Camp Moremi offers a range of Meru-style tented suites, and one family room. All come with an en-suite bathroom comprising of a shower, vanity and toilet, while the family room features a second bathroom.
Each tent is set on a raised teak platform, leading out onto a private deck, surrounded by a woodland of Mopane and Jackalberry trees. It's an ideal setting for simply sitting back and taking in the views as the chorus of birdsong filters through from the canopy around you.
African woven mats give the bedrooms a homely feel, and the four-poster beds, draped with mosquito nets, add a subtle touch of elegance. Fans are available in all rooms as well as a small protected safe for storing valuables. There is also tea and coffee making facilities for when you're in the mood for a hot cuppa.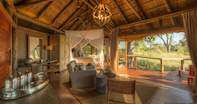 Camp Moremi Activities
Camp Moremi, situated in Moremi Game Reserve guarantees thrilling safari adventures with excellent birding and big game viewing opportunities.
More of the Moremi
The exclamation point on any safari is determined by your guide and you will feel incredibly privileged to have the ones at Camp Moremi at your side during the morning and afternoon game drives. Their knowledge of the animals is exceptional and they have a solid understanding of life in the bush, setting a high standard when it comes to guiding. Help them keep an eye out for the endangered African wild dog of which you can catch a glimpse of here in the Moremi.
Spend Some Time with the Birds
Avid birders will also delight in the almost unlimited variety of bird species found amongst the trees and surrounding grasslands, especially from November to April when birding season is at its peak. You'll see most of the favourites (the African fish eagle and Malachite kingfisher) during game drives and boat cruises but the property grounds are also large enough for you to have a bit of an amble on your own. If you do, keep vigilant for other game that might also be ambling out along the paths at the same time...
Take to the Water
The diversity of life in the Moremi is evident, especially when exploring the Xakanaxa waterways by boat. Your guides will introduce you to all sorts of water-loving animals, pointing out the smallest animals like the Painted Reed Frog which most untrained eyes would overlook completely! You'll encounter a vast number of antelope too, such as impala, kudu and waterbuck, and of course, a few skulking predators who are never too far behind.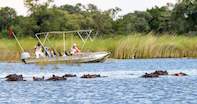 Location of Camp Moremi
Camp Moremi is situated on the breathtaking Xakanaxa Lagoon in the eastern region of the Okavango Delta, within the Moremi Game Reserve in Botswana.
Camp Moremi is located on the Xakanaxa Lagoon (pronounced ta-ka-na-ka), amidst the verdant greenery found along the swamps of the Delta. While it is situated right on the water, it is considered more a land-based camp than water.
Run by the Deserts & Deltas team, it is one of only three camps in the area and is accessed by light aircraft transfer to the Xakanaxa airstrip. Flights to and from Camp Moremi are scheduled based on your itinerary, and once at the airstrip, there is a road transfer of approximately 25 minutes to camp. You can also reach Camp Moremi by road. It is 140km from Maun on sandy roads suitable for 4WD vehicles only. It's approximately a four-hour drive.
We can also very easily combine your Delta experience with a visit to the Chobe National Park, for a more varied, customised experience along with fly-in options where you can catch a bird's eye view of these pristine landscapes.
Camp Moremi GPS Co-ordinates
S19° 12' 51.85
E023° 25' 56.0