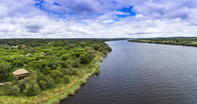 Chobe Bakwena Lodge is an eco-luxury retreat on the banks of the Chobe River and is located in Kasane, close to Chobe National Park in Botswana. This Chobe lodge steps up to maintain a low carbon footprint while offering the ultimate in serenity and comfort.
Chobe Bakwena Lodge Experience
Created from organic, reusable materials, Chobe Bakwena is a haven for responsible travellers who prefer to support establishments that align with their eco-travel values. Set under an enchanting canopy of riverine trees, you'll be spoilt for choice with the Chobe river-view or treetop-based chalets.
You could also opt for the family or honeymoon suite, depending on your needs. Wake to the call of the African fish eagle and fall asleep to the comforting grunt of a hippo. This comfortable Chobe River accommodation is well thought-out and takes first prize for being environmentally-friendly without skimping on authenticity and luxury.
During your stay, you can expect ample Botswana wildlife viewing opportunities paired with African-fusion cuisine prepared from locally sourced ingredients and inspired by traditional Setswana cuisine. After returning from a guided game drive or safari cruise, there will always be something fresh and crisp, or sizzling and steaming served right on cue. Overall, we consider Chobe Bakwena a great find with exceptionally warm and attentive staff, top-notch facilities and soul-stirring views of the magnificent Chobe River
Why We Love it and You Will Too
Enjoy some downtime after a busy day with a dip in the chlorine-free, eco-swimming pool on site.
Head over to the restaurant and outdoor dining area to sample some of the freshly prepared meals inspired by traditional Setswana cuisine. Opt for lantern-lit dinner for two under a blanket of stars.
There are plenty of communal areas for relaxing, including the Rain Tree bar (with a fantastic river view), great for for whiling away the time between safari activities.
Hop aboard the Chobe River safari boat for a serene and picturesque sunset cruise to watch the sun set over the Chobe landscape.
Venture out on 4x4 game drives with expert guides, or take some time to pedal out on a bike for a more unique (and eco-friendly) experience in the Chobe.
Visit local schools on a pre-arranged village tour to know the real Africa.
Head to Victoria Falls for the day to partake in a guided tour of the 'smoke that thunders'.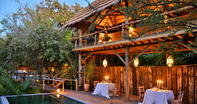 Chobe River Accommodation
Built around both ecological and traditional African principles, Chobe Bakena Lodge offers authentic chalet-style safari accommodation with riverfront views. Relax in the privacy of your private verandah in one of Chobe Bakwena's river view or tree-top chalets.
The chalets are equipped with warm wooden floors, twin beds or a king-sized bed, and an en-suite bathroom opening onto what is arguably the best feature - an outside shower.
At Chobe Bakwena, natural bush views follow you wherever you go. Taking the time to appreciate it, is fully encouraged (yes, even while you shower). Families are also very much welcomed to delight in this riverine sanctuary in specialised family suites. There's also something for honeymooners and couples too, with the intimate and secluded honeymoon suites.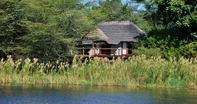 Chobe Bakwena Lodge Activities
At Chobe Bakwena Lodge, a wide range of activities await you, such as guided game drives, safari boat cruises on the Chobe River and cultural tours through the village.
Experience Village Life
At Chobe Bakwena Lodge, we can also arrange a visit into the neighbouring village called Kazungula. Rather than just focusing on the wildlife, you'll have the opportunity to meet the people of Botswana, and get an insider's perspective on local traditions and customs.
Bikes on Safari
For a Chobe safari activity of a different kind, Chobe Bakwena Lodge offers cruiser bikes for you to use at your own leisure. As you e peddle out to explore alone or with a guide, you'll most likely get more than a few lucky animal sightings along the way!
Activities on Land
The twice-daily 4x4 game drives take centre stage on land and are led by experienced guides through the park. You'll get to meet those legendary large tuskers that the Chobe is so well known for, along with a collection of other fond favourites, like rhino, zebra, wildebeest and prides of lion. Fingers-crossed for leopard sightings during late afternoon drives.
Out on the Water
At Chobe Bakwena you'll get the best of both land and water-based activities. Along with 4x4 game drives, you can also experience safari boat cruises along the Chobe. A sundowner cruise on "Noah's Ark" is an absolute must during your stay at Chobe Bakwena, and while you're cruising along, keep watch for waterbuck, red lechwe, giraffe, kudu, sable, impala, warthog, bushbuck, monkeys and baboons that often casually wander near the water's edge.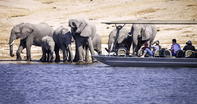 Location of Chobe Bakwena Lodge
The privately-owned Chobe Bakwena Lodge is located close to Botswana's Chobe National Park and Kasane and around 90 km from the iconic Victoria Falls. The nearest local airport being 9km away (Kasane Airport). From there, it takes only 20 minutes to drive to the camp, with a high chance of animal sightings along the way.
The Chobe boasts over 450 species of birds and is well stocked with big game, such as blue wildebeest, zebra, giraffe, kudu, warthog, baboon and vervet monkey. Lions and the spotted hyena are prevalent, and they are Chobe's dominant predators. African wild dogs, cheetahs and leopards also dwell here, but their sightings are slightly less frequent.
When you've topped up your animal sightings list and are ready to experience Mosi-oa-Tunya - aka the 'Smoke that thunders' - we can arrange a private tour to Victoria Falls. The falls are situated 90km from this Chobe lodge by road.
Child Policy
Children under the age of 8 are welcome, but it is highly recommended to hire a private vehicle for game viewing activities.