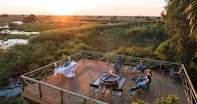 This Okavango Delta safari lodge is located on a picture-perfect palm island. Setari Camp effortlessly pairs pristine wilderness views with superb game viewing opportunities.
Over the years we have encountered many gorgeous camps but we'll admit that Setari is regarded as one of the most beautiful outstanding, with elevated timber walkways leading past private suites into the main area which looks exactly like a whimsical tree-house.
No surprise at its name then. In Setswana, Setari means 'tree' and Setari Camp has been lovingly designed to resemble one of the many Delta palms dotted along its riverine islands.
The camp layout is thoughtfully designed and from the inviting lounge and bar area, you can meader off to the extended viewing deck with a fire pit — just the spot to put your feet up with a sundowner. You can also head out here after dinner to bask in the grand sounds of African nightlife and dabble in some stargazing before bedding down.
Situated on a picture-perfect palm island (called Little Duba) within a private concession, exclusivity and seclusion are yours for the taking at Setari Camp. And when you're not making the most of that fine-tuned hospitality, guided boat safaris and mokoro trips take centre stage. When you're keen to stretch out the legs, you can also embark on in-depth guided walking experiences on one of the neighbouring islands in and around the lagoons.
Why We Love it and You Will Too
The island that Setari Camp is situated on is also home to the rare Sitatunga antelope as well as bushbuck, a resident leopard, hippo, a troupe of baboons and a lone hyena.

Raised timber walkways lead from the main lodge to a viewing deck overlooking a frequently-visited waterhole. From here you can continue your game viewing even when you're not out exploring the Delta.

This is a year-round water camp, and during your stay, embark on guided walks (on neighbouring islands), boat safaris and tranquil mokoro rides. Catch and release fishing is available.

The area surrounding the camp is a birder's paradise. Sit out on the main viewing deck and you'll quickly witness more than a few migrant and aquatic birds, along with raptors and even the beautiful Pel's Fishing Owl.

Signature facilities at Setari Camp include a communal bar area, an indoor lounge, an open-air boma, a gym and swimming pool.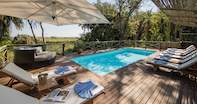 Setari Camp Accommodation
Setari Camp offers luxurious and authentic Okavango Delta safari lodge accommodation in private suites strategically elevated above a private concession in the Okavango Delta in Botswana.
Setari Camp can host up to 20 guests in eight tented-suites built up within the trees to make the most of those exquisite views over the shimmering Delta floodplains.
Each unit is elegantly furnished with private viewing decks, extra length beds, super-sized mosquito nets, desks, sofas, fans and ample plug points. The suites at Setari also have en-suite bathrooms (with freestanding baths) and outdoor showers.
The Family Tent at Setari Camp accommodates families of up to four in two adjoining tents, each with its own bathroom and outside shower. There is also a large deck area where families can enjoy private dinners together.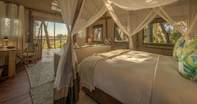 Setari Camp Activities
The safari experience at Setari Camp is centred on daily safari boat rides, guided walks and tranquil mokoro rides along the glistening channels of the Okavango Delta.
Game Viewing 24/7
Experience the secrets of the Delta right from the comfort of Setari Camp. As a year-round water camp, the birdlife is outstanding and you'll be sure to spot more than a few four-legged 'locals', including a regular appearance of those nocturnal beasties that arise after dark, namely caracals, civets and jackals.
Mokoros and Motorboats
What better way to become acquainted with the Delta than on the water where it all happens! While staying at Setari Camp you can try safaris by motorboat, but also by mokoros which are less intrusive without roaring engines, making it easier to get close to Delta's bounty of birds and animals. These are steered by proficient mokoro polers who are incredibly informative and will provide an in-depth narration regarding what you see around you.
Visit the Heronry
Whether you love birds, or you're not too phased, a trip to the Heronry at Setari is an awe-inspiring experience, regardless. You'll be astounded at the sheer sight (and sound) of them nesting in the trees and surrounding bushes. There are all sorts to be found, from pelicans, marabou storks, herons, ibis and egrets. During mokoro rides, keep your eyes peeled for Pel's fishing owls and Giant eagle owls.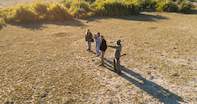 Getting to Setari Camp
Setari Camp has been lovingly created on a magical palm island situated deep within Botswana's iconic Okavango Delta.
The Okavango Delta supports some of the largest and most diverse populations of birds and animals in Africa, and Setari Camp is one of the most intimate camps from which to experience it without the crowds.
The location of this camp is one of its most unique features, settled on a private concession called NG/24 or Little Duba and is only 1.2 km long and 700 meters wide. It is surrounded by seven lagoons with year-round water, attracting scores of birds and animals that the Delta is known for.
Setari Camp can be accessed by a 35-minute light aircraft flight from Maun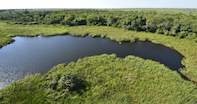 Setari Camp Coordinates
18 58 30.88 S 22 34 05.97 E
Child Policy
If you're travelling to the Okavango Delta with kids, Setari welcomes little guests from the age of 6 years and older. They also offer babysitting services and a luxury tent well-suited for families.