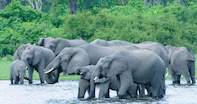 © Shem Compion
As an experienced Botswana Destination Management Company, we know what works and what doesn't for families touring Botswana. These Botswana safari packages have been created by our destination experts with families and children in mind.
The destinations and lodges visited by these Botswana family safari tours are all child-friendly and safe. Local guides who have intimate knowledge of the land will teach kids all about tracking animal spoors and fun facts about the big and small creatures, on a guided bushwalk.
Your little ones will be in safe hands while on these Botswana family safaris, so you can relax and enjoy everything on offer.

This Okavango Delta family safari in Botswana provides special activities for children, as well as an education in the preservation of wildlife. Your whole family can participate.

This Botswana family safari is perfect for a multi-generational family holiday to Okavango Delta and the Kalahari. Family friendly safari lodges in Botswana have been selected.