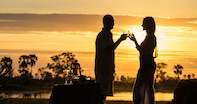 © Serenity. Seclusion. Seduction in Botswana
Enjoy an intimate Botswana honeymoon safari holiday in a secluded lodge deep in the heart of one of the most beautiful parts of Africa, complete with all the romantic touches you wish for.
Our Botswana Honeymoon Safari Packages offer you a romantic and memorable honeymoon safari holiday in the pristine wilderness. Relax in luxurious accommodation and watch the sky change colour during a picturesque sunset. Perhaps go on a tranquil river cruise, or savour an intimate candlelight dinner under the brilliant African stars.
Comfortable romantic safari accommodation
Intimate and secluded retreats
Special romantic touches
Candlelight dinners under the stars
Botswana Honeymoon Safari Holidays
Premier Honeymoon Packages combines luxury accommodation with tailor-made romantic touches, a fantastic scenic location and truly the best game viewing in Botswana. Offering you only the best of everything these safaris will provide you with wonderful memories for years to come.

Our Classic romantic escape to the Okavango will provide unforgettable memories of cruising the water lily covered lagoons and seeing lots of wildlife, providing enduring memories that will last a life time. Set in the most beautiful and intimate place in the Okavango Delta.

Steal away on a romantic retreat or honeymoon to the palm-fringed islands of the Okavango Delta in the heart of Botswana. This Okavango Honeymoon safari package allows you to experience the remote beauty of the Okavango complete with candlelight dinners.

The original romantic Okavango and Savuti safari, you'll be captivated by the magical beauty of the Botswana wilderness. From lush floodplains of the Delta and open savannah of the Linyanti to the roaring of the thundering Victoria Falls

Our premier Okavango and Chobe honeymoon safari holiday package offers exceptional game viewing and romantic spa treatments in the bush.

This safari package offers an adventurous honeymoon in the wilds of Linyanti, one of Africa's greatest wildlife destinations, known for its many predators.

Classic and affordable, this Okavango and Chobe honeymoon safari takes you on a journey to celebrate your love in the wilderness of Botswana.

Taking in Okavango Delta and the famous Chobe region and stay on a romantic and secluded island and see thousands of Elephants along the River. Witness the thundering Victoria Falls waterfalls.

Seduce your senses with award-winning luxury, exceptional service, romantic touches and exceptional game viewing