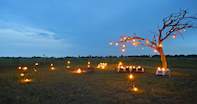 This Botswana Honeymoon Safari takes you to Okavango Delta and Chobe National Park. It combines great game viewing with luxury accommodation at two romantic safari lodges in Botswana.
Luxury Botswana Honeymoon Experience
Celebrate your African honeymoon in style with this romantic Botswana safari that showcases the remote beauty of the Okavango Delta and Chobe National Park. Breathtaking vistas combined with romantic tented accommodation, private candlelit dinners, guided open safari vehicle game drives, boat safaris along the Chobe River and dugout canoes trips through the Okavango Delta - will create memories to last a lifetime.
Day 1: Okavango Delta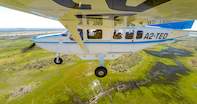 On arrival in Maun, you will be met and escorted to your light aircraft flight that takes you directly into the Okavango Delta. You will be surrounded by reed-filled waterways of the seasonal Delta floodplains, lush grasslands and sparkling lagoon in front of your Botswana accommodation. This awe-inspiring setting combined with romantic tented accommodation and great game viewing activities makes this the ideal first stop on your Botswana honeymoon.

There will be enough time to settle in and refresh before your first sunset game drive into the African bush. For the next 2 days, you will explore the waterways of the Okavango Delta under the guidance of experienced rangers and trackers.

This Botswana safari honeymoon will take you to explore the permanent Okavango Delta on game drives, the seasonal Delta and palm islands on canoe and motorboat safaris.
Day 2 - 3: Okavango Delta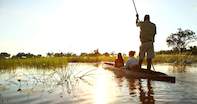 Early morning wake-up calls with tea or coffee will be followed by a morning safari activity - a choice of game drive, boat safari or mokoro ride. Mokoros are not motorized, they allow you to glide through the waterways of the Delta. The silent approach lets you see wildlife up close. See animals feed on grass and reeds on the many palm islands as you glide by.

Common sightings include elephants, hippos, crocodiles and the wildlife of the Okavango Delta is spectacular and each sighting will provide a highlight. After the morning activities, you can enjoy brunch and relaxation time before heading out on your afternoon game drive.

Afternoon game drives continue well into the night allowing for excellent Botswana wildlife sightings as many animals are more active at night.
Day 4: Okavango Delta - Chobe National Park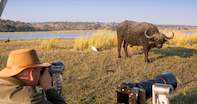 Sleep in or go on one last game viewing activity before your light aircraft transfer to Kasane. At Kasane, a short road transfer takes you into the game-rich Chobe National Park. Spend 2 days at a secluded camp inside the renowned Chobe National Park.

Explore Botswana's wildlife on a photographic river cruise on the Chobe River and on off-road game drives. Chobe is home to some the largest elephants herds in Africa.
Day 5: Chobe National Park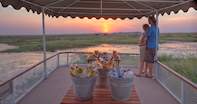 As dawn breaks over the bush head out on an exciting guided morning game drive. After spending the morning tracking down Botswana wildlife, return to camp for breakfast. Leisure time until the late afternoon gives you and your partner some time to relax. In the late afternoon head out on a Chobe River cruise.

Spot hundreds of elephants that come down to drink water as you glide by. Enjoy snacks and sundowner drinks on board as the sun sinks over the African horizon.
Day 6: Chobe National Park - Kasane - Johannesburg/Victoria Falls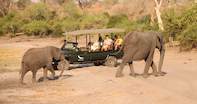 After an early morning game drive and breakfast, you are transferred back to Kasane to meet your onward arrangements.
Included
Scheduled return flights from/to Johannesburg and Maun/Kasane
Road and light aircraft transfers between Maun/Kasane and camps
3 nights luxury tented accommodation in the Okavango Delta
2 nights luxury tented accommodation inside the Chobe National Park
All meals including, breakfast, lunch and dinner
Local brand drinks including water, tea & coffee, soft drinks, beers, wines and spirits
Refreshments and snacks on game drives
Land-based safari activities including guided off-road game drives in open safari vehicles and nature walks
Water-based safari activities including motorized boat cruises and mokoro canoe excursions>
Photographic river cruise on the Chobe River accompanied by professional photographers
Romantic touches
Emergency medical evacuation insurance
Park and conservation fees
Not Included
Premium branded and imported drinks
Any personal expenses, travel insurance, optional activities not listed above and all other extras to be settled direct
If you have a few extra days to spend, we recommend 2 or 3 days in Victoria Falls. A short road transfer across the border could take you to see one of the seven wonders of the world - The Victoria Falls