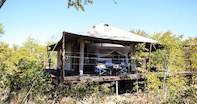 Camp Kuzuma is an exclusive wilderness lodge situated in the pristine Kazuma Forest Reserve in the Chobe region of Botswana, roughly an hours' drive from Kasane Airport.
Camp Kuzuma Lodge Experience
Imagine a place where elephants wander around just outside the airport. Where you arrive at a canopy of Mopane trees to discover, and don't need to move further than your armchair to watch animals drinking from a waterhole. This is the reality at Camp Kuzuma.
This five-star luxury Botswana safari lodge borders Chobe National Park and the Hwange National Park in Zimbabwe which continues to snap up multiple awards for its eco-tourism initiatives. It has strong ties to Elephants Without Borders, ensuring their care, protection and survival. Arguably the top feature of this lodge is indeed these majestic beasts that are a common feature at the waterhole. Watch as they play in the mud as you sit out on the main deck or even as you walk along the elevated walkways that connect the open-plan luxury tented suites.
Another unique feature of Camp Kuzuma, is that it boasts traversing rights over 11 800 hectares of the pristine Kazuma Forest Reserve, which lies on the surrounding open plains of the Kuzuma Pans. Here, you can easily catch a glimpse of wildebeest, buffalo, roan antelope, rare sable, giraffe, lion and leopard out on morning and evening game drives. The best part? There is no need to compete with groups of tourists.
Why We Love it and You Will Too
Find your new favorite spot in the main lodge area near the bright and airy open-plan bar for a crisp, cold sundowner.
Experience a moment of solace in the sunken fire pit just off the main deck, reading a book in the afternoon breeze, or enjoying a nightcap before bedtime.
Pamper yourself at the private open tented spa, while elephants meander nearby. Kuzuma's popular drinking hole can host up to 140 elephants who typically visit in the dry season (June to October)
Traverse the surrounding plains of the Kuzuma Pans on expert-led 4x4 game drives, watching for sable, wildebeest, buffalo, roan antelope, giraffe, lion and even the elusive leopard.
Keep an eye (and ear) out for some of the 196 species of birds out on bush walks with Kuzuma's experienced tracker-guides.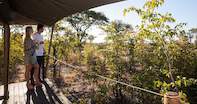 Camp Kuzuma Accommodation
The elevated, open-plan luxury suites at Camp Kuzuma feature all the modern amenities you could need on a Botswana safari in Chobe National Park.
Kuzuma's elevated open-plan canvas and stone suites open out to the surrounding bushveld, while offering absolute privacy. Each suite features a private deck and outdoor shower for you to make the most of the soul-stirring views, while indoors, the Victorian baths, silver trays and teapots, leather couches and king-sized beds draped with mosquito nets create an inviting space for you to relax in.
In the morning, your personal butler will offer a fresh pot of steaming coffee and home-baked rusks. There is no better way to start your days on safari, as the African sun rises to greet you, and a chorus of birds serenade you from the surrounding Mopane trees.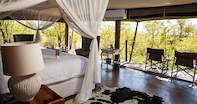 Camp Kuzuma Activities
Camp Kuzuma offers an exclusive safari experience in the pristine Kazuma Forest reserve in the Chobe region, approximately an hours' drive from Kasane.
Go Searching for Wild Game
At Camp Kazume guided night game drives before dinner provide the perfect opportunity to encounter nocturnal animals such as lion, leopard and hyena who typically hunt after the sun sets and it is not too hot. You can also opt for a sunset cruise along the Chobe River, or try a bush walk with an experienced tracker guide to get even closer to nature. You might even come across some of Africa's Small Five: The elephant shrew, leopard tortoise, rhinoceros beetle, ant lion and buffalo weaver.
Explore at Your Own Leisure
Besides animal viewing opportunities, Camp Kuzuma offers a cultural experience during a tour which includes experiencing a local school, market and tribe. Set aside a day for a tour of Victoria Falls known locally as Mosi Oya Tunya (the 'Smoke that Thunders'). Then, when you are ready to relax in between activities, make your way over to the private spa, where you can observe elephants enjoying the water at the nearby waterhole.
Relax in Kuzuma's Intimate Settings
At Camp Kuzuma, meal times are an occasion to look forward to, whether it's in the open-plan dining room or the main viewing deck overlooking the waterhole. Our favourite place is the sunken fire pit, which also offers an opportunity to share an after-dinner nightcap and a story or two-story with other guests. Keep an ear out for giggling hyenas and lions calling out into the night. On clear evenings, sit with your guide for a spot of star-gazing, while waiting to see what unique animals come down for a night time drink at the waterhole.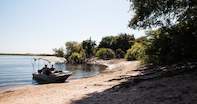 Getting to Camp Kuzuma
Camp Kuzuma is located just inside the northern boundary of the Kazuma Forest Reserve, close to Botswana's border with Zimbabwe and Hwange National Park.
Camp Kuzuma is situated in the Kazuma Forest Reserve in the Chobe region of Botswana. It lies exactly 85km from Kasane and is approximately an hours' drive from the Kasane airport which is serviced with daily flights to and from Johannesburg and Maun.
Upon your arrival, our Destination Specialists can arrange a private transfer down to the camp by road. This road transfer takes about an hour, and there is also the option to fly directly (via private charter) to the airstrip just 20 kilometres from the lodge.
Camp Kuzuma is the perfect base from which to explore the surrounding areas which includes the iconic and elephant-rich Chobe National Park, where you can embark on a safari cruise on the Chobe River. We can also arrange for you to spend a day visiting the natural wonder of Victoria Falls.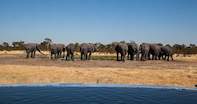 Camp Kuzuma GPS Co-ordinates
18.3403° S, 25.4868° E
Most guests staying at Camp Kuzuma can fly into Kasane in Botswana.