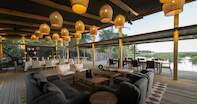 Linyanti Bush Camp offers an intimate Chobe safari experience in a private concession, right on the border of Botswana's iconic Chobe National Park.
Your Linyanti Tented Camp Experience
From the moment you set eyes on Linyanti Camp, you'll instantly know that you've arrived somewhere truly magical.
The setting, right on the lip of the Linyanti marshlands, will put you right in the heart of this game-rich region which plays host to plenty of birds and animals, including the rare African wild dog.
Crafted with an elegant minimalism, it offers en-suite tents designed in the style of the early safari pioneers. The main areas of the camp consist of open-sided structures effortlessly crafted from natural materials and furnished with modern touches. The bar leads into the dining and lounge areas where you'll find plenty of shade and comfortable seating options.
The camp was designed so that you can always have a clear view of the surrounding wilderness, and whether it's sitting down for a crisp beverage or walking back to your room, you'll find yourself utterly distracted by hippos and elephant sightings at the watery shallows below.
While it's easy to spend your days relaxing with your feet up as the staff attend to your every whim, safari activities abound at this camp. The programme is also flexible, so you can determine the pace of each day. Take your pick from guided game drives (morning and night), interpretive bush walks and stargazing sessions around the outdoor boma. You can also grab your binos and make your way to the log-pile hide with one of the Linyanti guides, just a short drive away. In just a day or two, you'll quickly satiate your game-viewing appetite.
Why We Love it and You Will Too
The facilities at Linyanti Tented Camp are impeccable, with a bar, lounge, outdoor boma and open-air dining area.

Peaceful, private and relaxing, this intimate camp blends seamlessly into its environment and is readily available for families and small groups.

Dabble in early morning and late afternoon/evening game drives, embark on bush walks, and visit the log-pile hide to witness the wildlife 'rush-hour'.

During these seamless safari activities, you'll bear witness to plenty of animals aside from those incredible ellies, such as rare sitatunga, lion, roan antelope, giraffe, buffalo and birds-a-plenty.

We also love that Linyanti works closely with local government bodies to ensure the conservation of wildlife in the area.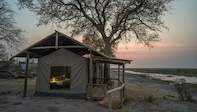 Linyanti Tented Camp Accommodation
Linyanti Tented Camp, booked solely for families and small groups, is the ideal location for those wishing to experience the wildlife-rich Linyanti wildlife reserve.
Tucked away from the tourist masses, Linyanti features only four one-bedroom units, which are described as "tents", but the only thing tent-like are the canvas walls.
The interiors are natural and beautiful, with well-thought out additions like plush beds, plenty of comfy scatter cushions, a shower with a view and even a whimsical writing desk. Sliding doors open out onto a small veranda area with chairs to sit and take in the expansive views of the floodplain.
Each unit feels as though you have entered the den of a true explorer, and that is something you will quickly become during your stay at Linyanti.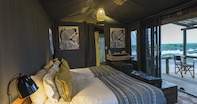 Linyanti Tented Camp Activities
Linyanti Tented Camp offers an intimate Chobe safari experience in a private concession on the border of Botswana's iconic Chobe National Park which boasts elephants by the thousands.
Spend Time with the Birds
Birding is great throughout the year at Linyanti, but particularly in the summer months when the migrant species arrive. Avid birders will delight in spending time at the log-pile hide, a short drive from camp. In the dry season, large numbers of elephant move through the area, too. When packing to come to Linyanti Tented Camp, binoculars are a good idea, as is a camera.
Walk Alongside Nature
What makes a walking safari so great, is that it's a more peaceful and patient way of experiencing nature. There's no roaring engine, so you'll be able to get much closer to skittish creatures, like bushbuck, and the occasional sitatunga. On these walks you'll be led by one of Linyati's experienced tracker-guides who will quickly help you to get back in touch with your natural senses.
Go on a Game Drive
At Linyanti Tented Camp you can enjoy your land-based 4x4 guided game drives. These depart twice daily: in the early morning and in the late afternoon/early evening. The night drives are a definite highlight and you'll get to spot the more nocturnal creatures of the bush like honeybadgers, civets, leopards, hippos, crocs and hyenas. Since it is much cooler at night, the energy levels of predators reach its peak and you'll quickly find yourself having a front-row seat to all of the action.
Stargazing at the Boma
From the slightly raised perch of the main area, you'll have excellent views over the swamplands and floodplains during the day, but as night falls, one of the best spots for stargazing is at the outdoor boma area. Each night, the campfire will be lit for you and your party to sit down together for a nightcap. One of the guides will be there to help pinpoint a few constellations and perhaps even share an African tale or two.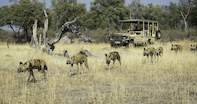 Getting to Linyanti Tented Camp
Set within Northern Botswana's iconic Selinda Reserve, the newly built Selinda Camp rests on the banks of the Selinda Spillway, as it enters the Linyanti River.
Linyanti Tented Camp is situated right between the Chobe National Park and Linyati waterways in the North-western corner of Botswana. It's one of the most exquisite locations for a safari well out of reach from the tourist hordes that normally settle closer to the Chobe River.
You'll need to fly-in to get to the camp, which has its advantages; you'll be rewarded with the most outstanding views of the floodplains dotted with herds of elephants, buffalos and wildebeests. The transfer to camp from the local airstrip takes around a 90 minutes to 2 hours drive through the Chobe, with plenty to see on the way.
Linyanti Tented Camp can easily be reached via the Maun and Kasane airports which have direct flights from Johannesburg and Gaborone, but if you're unsure where to start when it comes to your transport options, our Destination Specialists are here to help every step of the way.