Polish your binoculars during your stay at Nogatsaa Pans Lodge, a Botswana safari lodge in Chobe National Park overlooking an active water-filled pan with not a tourist in sight.
Your Nogatsaa Pans Lodge Experience
Nogatsaa Pans in Botswana is a relatively new safari lodge in the Chobe National Park, but it's fast gaining a reputation as a wildlife hotspot far away from the safari crowds.
Nogatsaa Pans Lodge is remote, yet still within decent reach for travellers. Located on the lip of the Kwikamba Pan in the Nogatsaa area of the reserve. The game viewing begins during your first drive into the reserve, so don't let your guard down!
The Chobe is well-known as big game country, not just because of its herds of large tuskers, but for those hard-to-miss predators: hyenas, lions and leopards. The Nogatsaa area features a cluster of natural clay-bottom pans which fill during the rainy season, dwindling during the drier months and attracting a lively crowd of animals year-round.
Aside from all of that excellent game viewing, Nogatsaa Pans offers Botswana safari-goers a comfortable haven to rest their weary heads in luxury tented suites. You will have all the facilities you could need to make your stay comfortable. For the best seats in the house, head to the pool area, the bar, or restaurant terrace for a VIP view of the always active Kwikamba Pan.
We love this hidden gem supporting an accommodation that also pays careful attention to its eco-footprint. Nogatsaa Pans Lodge runs solely on its fully solar power, generating enough renewable electricity for the entire lodge, and significantly reducing its environmental impact. If you consider yourself a responsible traveller, a few nights at Nogatsaa will have you feeling at ease with this travel choice.
Why We Love it and You Will Too
Nogatsaa Pans Lodge will win you over with its sustainability practices. It is entirely run on solar electricity, significantly reducing its environmental impact.
Sleep comfortably in your private tent, well-equipped with amenities that make for a memorable stay, from big fluffy towels to ample puffy pillows, gowns and slippers.
Expert-led morning and afternoon game drives amble out into the Chobe on open 4x4 safari vehicles to seek out elephants, buffalos, giraffes, hippos, lions and leopards, to name a few.
Spend your downtime on a sun lounger by the pool, or bar area sipping cocktails and soaking up the views over the Kwikamba Pan, right on your doorstep.
Come sundown, bask in the symphony of nocturnal sounds while your guides share stories of Botswana culture and folklore around the boma campfire.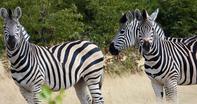 Your Chobe National Park Accommodation
Nogatsaa Pans Lodge is an eco-conscious, solar-powered lodge which offers you luxury tented safari suites in the Chobe National Park in Botswana.
Nogatsaa Pans Lodge offers two main styles of rooms: the Super King Luxury Tented Rooms. The Family Luxury Tented Rooms sleeps four people - the main bedroom contains a king-size bed and a second room contains two single beds. Whichever one you decide on, expect a Botswana safari haven filled with a wonderful range of added comforts such as crisp percale linen and oversized pillows, fluffy towels, gowns slippers, and a variety of eco-friendly amenities.
Each room also features a cupboard with plenty of hanging space as well as shelves and a luggage rack. If you want to catch up on some correspondence, the rooms also have a desk. If you're not one to travel anywhere without a good book, there is also a comfortable chair to relax and catch up on some reading.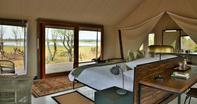 Things to do at Nogatsaa Pans Lodge
Nogatsaa Pans Lodge offers a wide range of guided safari activities in a less-explored region of the Chobe National Park in Botswana.
The remoteness of Nogatsaa Pans Lodge is perfect for taking advantage of the Botswana night time skies. Cloudless nights here can best be described as pure magic. They are best spent at the upper deck in the company of the Nogatsaa Pans guides who will point out some of the main stars and constellations. While the daytime shows around the pans are hard to top, these cosmic shows are sure to leave a lasting impression.
Nogatsaa Game Drives Galore
Game drives depart in the early morning and late afternoons along with established road networks meandering along the Ngwezumba River, its surrounding grasslands and Mopane woodlands. This dynamic selection of terrain makes for a varied experience when it comes to animal viewing. While those ellies are often the easiest to spot, your Nogatsaa Pan guides will introduce you to more than a few new furry (and beaked) faces you might not have met before.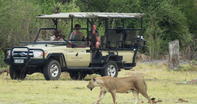 After brunch, relax under the trees, sneak off for a siesta in your private tent, or put your feet up with a crisp G&T at the bar. This is the perfect spot for some bird watching. Since Nogatsaa Pans is unfenced, birds and animals often move freely through the lodge area and nearby pan. Four of the waterholes near the lodge feature "hides" (raised wooden platforms) which makes for some excellent, uninterrupted bird sightings in the Chobe National Park.
Location of Nogatsaa Pans Lodge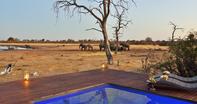 Nogatsaa Pans Lodge is located 80km south of the Chobe River in the Chobe National Park and overlooks the Kwikamba Pan – the biggest of many clay bottom pans in the area.
Nogatsaa Pans Lodge, Chobe is situated in a strategic location near the Kwikamba Pan in the Nogatsaa area of Chobe National Park. Most lodges in Botswana can only be reached via light aircraft flight- so if you are not keen on that - this Botswana safari lodge is perfect for you as getting to the lodge is relatively easy.
Our Siyabona Africa Destination Specialists can arrange your road transfer from Kasane Airport, which takes around two hours. It offers a first glimpse at the Chobe, taking you past some local villages and a range of varied terrain which includes open grasslands, clay bottom pans and waterholes. Nogatsaa Pans Lodge occupies one of the best locations, with sweeping views right over the Kwikamba Pan – the largest of many clay bottom pans found within the area.