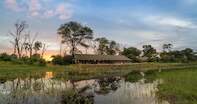 Gomoti Plains Camp is located in a community run concession, on the lip of the Gomoti River, just southeast of the Okavango Delta. It is well-known for its large concentrations of African wildlife which thrive on the Gomoti plains and waterways which constantly nourish and replenish the area.
Gomoti Plains Camp Experience
Named after the indigenous Gomoti trees that line the waterways, providing shade for local animals and cover for nesting water birds such as herons and stork, Gomoti Plains Camp is a chic, modern camp that pairs perfectly with the beauty of the natural surrounds, as well as the diversity of Okavango Delta safari activities on offer.
Nestled into this evergreen, riverine woodland, the main area of the camp comprises of a canvas-covered lounge and dining room built on slightly raised wooden decks overlooking a shallow lagoon on the Gomoti River. Typically, dining takes place outside under the shade during lunch time or right under the stars at night. The decor is clean and elegant in its simplicity, while outside, expect to discover the communal campfire ringed by comfy camp chairs, the perfect place for enjoying the natural surrounds, refreshing drink in hand.
Why We Love it and You Will Too
Predator viewing here is top-notch, especially out on 4x4 Gomoti game drives, with a decent chance of seeing wild dogs, cheetah, leopards, hyenas and lions.
Experience the Okavango in all its glory cruising the waterways on motorboat and mokoro (a traditional dug-out canoe).
Take it easy. Relax out on your private deck and soak up your front row view of the Gomoti River, filled with fantastic bird life.
Dine under the stars (weather permitting). Meals served at the camp restaurant is a stunning mix of local cuisine with some in good old fashioned home-style cooking. We call this "bushfare".
You might be at Gomoti Plains to escape everyday life but the complimentary WiFi might come in handy for posting a pic or two online for friends and family.
Nip over to the pool area in between game viewing activities. This is especially ideal after a long day out and about.
Make use of Gomoti Plains laundry service- you'll be amazed at how much dust you can bring back with you, after ambling out on 4x4s. This service, along with the private safari vehicles for hire, are especially handy for families.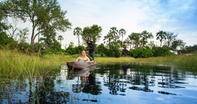 Your Okavango Delta Accommodation
At Gomoti Plains, spacious tents (including family units which can sleep up to four) sit raised on wooden decks overlooking the Gomoti River. Each is decorated in a classic safari style with straight canvas lines, comfortable double beds with crisp, white linen and organic, earthy tones.
Each room features a shaded front timber deck which together with the floor-to-ceiling mesh sides, allow sweeping views of the outdoor surrounds, and welcome a cooling breeze. The en-suite bathrooms offer twin basins, with indoor and outdoor showers. There is also electricity available for charging your electronics.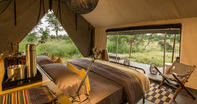 Gomoti Plains Activities
Gomoti Plains offers a full spectrum of activities for adventure-seekers. From game drives (day and night) in open Land Cruisers to getting out on the water on a traditional mokoro. Both are peaceful and exhilarating, offering you the chance to see hippos and crocodiles (from a motorboat) lurking in the river. You can even try your hand at a spot of fishing.
Last but not least, walking safaris will encourage you to use all of your senses as your tracker-guide leads you through the too-often unnoticed world of plants, trees, reptiles and insects. These leisurely walks are conducted in the morning with armed guides, depending on the weather.
Gomoti Plains Location
Gomoti Plains is situated on one of the smaller flood plains along the Gomoti River system in the Okavango Delta. Gomoti Plains is a 15 – 20 minute charter flight from Maun, a 50 – 60 minute charter flight from Kasane. There is a 30 minute drive from the airstrip to camp but this can vary if water levels are high. There is also the option of inter-camp flight transfers.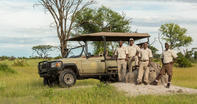 GPS Co-ordinates
S19 35 09.45 E23 32 50.16
Child Policy
Children under 12 are welcome but are not allowed on the mokoros and game walks. A private vehicle is required for children under 6 participating in game activities. No babysitting facilities available. Children aged 5 years and younger stay free, children 6-11 pay standard child rate.