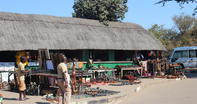 © Ann Gadd
Livingstone, the former capital of Zambias Southern Province, is located north of the magnificent Zambezi River. Livingstone is a booming city where tourist flock to access the renowned Victoria Falls. Access to Livingstone is by air transfers or leisurely safari drives.
This popular safari destination in Zambia is best known for being the gateway to the Victoria Falls, but has incredible attractions of its own. The allure of Livingstone lies in its colonial and traditional African Livingstone is close to a number of national parks in the area.
Many Botswana safari tours include a stay at Livingstone to incorporate the Victoria Falls. This makes for a fabulous wildlife safari combined with a trip to Victoria Falls.