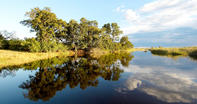 Caprivi is a protrusion in Namibia, that is adjacent to the northern border of Botswana. Access to Caprivi is by scenic flights and road transfers. Caprivi is located within close proximity to some of the biggest attractions in Botswana.
Caprivi often serves as a transit destination to access the Chobe National Park, but has attractions of its own. At Mudumu, Mamili and the Bwabwata National Park an incredible diversity of wildlife can be witnessed in all their glory during scenic game viewing adventures.
Caprivi accommodation is offered in luxury lodges and hotels. Activities in Caprivi includes game drives, river cruises, bushwalking safaris and birdwatching. See below for safari recommendations in Botswana safari tours that include safari lodges in Caprivi.
More on Caprivi Strip safari lodges