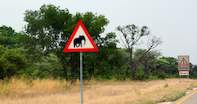 This Botswana self-drive tour through Makgadikgadi, Caprivi and Chobe offers an opportunity to experience the wonders of Botswana in your own time and at an affordable price. It is ideal for those who enjoy being on the road and don�t mind long drives.
Botswana Self-drive SUV Experience
Your Botswana self-drive safari tour follows a great route through magnificent and truly diverse landscapes. Enjoy the freedom of the road as you visit the Makgadikgadi Pans en-route to the lush Okavango Delta and Caprivi Strip. You will also enjoy the magic of Chobe National Park and see the magnificent Victoria Falls on day trip into Zimbabwe. All are within easy reach by 2x4 SUV (Sport Utility Vehicle).
With generally good roads, there is no need for a 4x4 vehicle. The distances on each day vary but each moment will be filled with sights of Africa not experienced on regular safaris. If you want to avoid the long drive from Johannesburg to Botswana this trip can be customised to start and end in Maun or start in Maun and end in Kasane (with car rental).
Self-drive Botswana Highlights
Affordable way to see Botswana without compromising on modern comforts
Good roads and well sign posted
Sense of remoteness as you travel through ever changing landscapes
Guided 4x4 Salt Pan drive to the Makgadikgadi Pans drive
Guided game drive into Chobe National Park
Sunset boat cruise on Thamalakane River and Chobe River
Victoria Falls day trip
Ideal if you like long drives
Customisable to suit your needs
Day 1: Long drive from Johannesburg to Francistown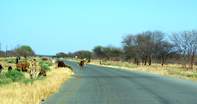 Today you will have to get up early to leave Johannesburg, as it is a long drive to your next stop, Francistown in Botswana. Once you have crossed the border you can enjoy the rural sights of villages and the Southern Botswana landscape, before reaching Francistown where you will stay overnight in a hotel.
Distance approx. 680km - driving time approx. 7-8 hours
Day 2: Francistown to The Makgadikgadi Pans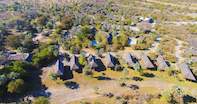 After breakfast, you leave Francistown for a short drive to Nata situated at the edge of the Makgadikgadi Pans where you stay for 2 nights. The Makgadikgadi Pans are the largest saltpans in the world and a fascinating range of desert-adapted creatures can be seen. (Breakfast and dinner included)
Distance approx. 200km - driving time approx. 3 hours
Day 3: Explore the Makgadikgadi Salt Pans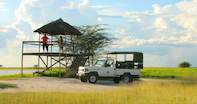 Today you have the entire day to explore the Makgadikgadi Salt Pans and Nata Sanctuary. An included guided tour in open safari vehicle into the Nata Sanctuary promises to be a highlight. The Nata River feeds into the Sua Pan which makes the area sanctuary for birds.

Be sure to keep your camera handy as a multitude of birds from pelicans to flamingos in their thousands turn the African sky into a pink haze. If you are a bit more adventurous, we recommend a quad bike adventure through the Salt Pans with an experienced guide.

Drive through the white clay with miles and miles of still and endless space as you encounter fossil beaches, granite boulders, and baobab trees. Guided adventures will teach you more about the history and the culture of this region. After a day filled with adventures return to Nata Lodge where you can enjoy dinner at the restaurant. (Breakfast and dinner included)
Day 4 - 5: Relax or Explore the Delta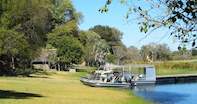 This morning, you may want to explore more of the Makgadikgadi Pans before driving on to Maun, where you stay for 2 nights. Your accommodation is situated a few kilometres outside of Maun along the Thamalakane River. After settling in on your first night enjoy an included sunset boat cruise - drink in hand watching the sky change shades of yellow, orange, red and lilac. The setting is serene and is perfect you to relax for a day.

Alternatively, there are a number of optional activities you can take part in. Opt for an optional full day excursion to explore the Moremi Game Reserve by mokoro (canoeing) or by game drive with qualified guide. (Breakfast included) Distance approx. 350km - driving time approx. 4-5 hours
Day 6: Drive North to Caprivi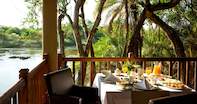 After an early breakfast travel up the western side of the Okavango Delta into Namibia. The Caprivi Strip of Namibia is one of the most beautiful stretches of wilderness in Southern Africa and is relatively undeveloped. Your accommodation is perched high on a river bank, giving you incredible views of the Okavango River. (Breakfast and dinner included)
Distance approx. 450km - driving time approx. 6-7 hours
Day 7: Discover the Caprivi strip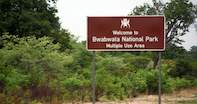 Today you will experience this area on your own or on optional activities. Discover the Okavango River and its surroundings on a boat safari where you will see hippos, crocodiles and big variety of birdlife. The Caprivi Strip is renowned as one of the best birding areas in Africa and is home to over 400 bird species. The off the beaten track Mahango National Game park within the Bwabwata National Park is a mere 10 min drive from your Caprivi accommodation.

Although the remote area is not very developed the Mahango National Game Park is easily accessible by 2x4 SUV. You can expect to see elephants, leopards, cheetahs, hippos, antelopes and monkeys. If you prefer optional guided game drives are available. Fall asleep to the sounds of the Popa Falls waterfalls that are only a few hundred meters from your accommodation in Caprivi. (Breakfast and dinner included)
Day 8: Travel to Kasane/Chobe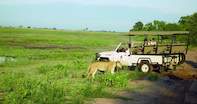 Today you will leave Namibia and travel along the "Caprivi Strip" and via the Ngoma Bridge across the Chobe River back into Botswana. You will immediately enter the Chobe National Park with a chance of seeing a spectacular variety of game including some of the world's largest herds of elephant, which will add to a day of excitement.

You spend the next 2 nights at a safari lodge located on the border of the Chobe National Park and a mere 150m from the Chobe Riverfront. (Breakfast and dinner included) Distance approx. 450km - driving time approx. 6-7 hours
Day 9: Explore the Chobe National Park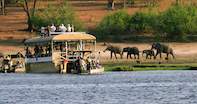 Chobe National Park is home to an abundance of wildlife and is easily accessible with your own vehicle. One guided game drive and one river cruise on the Chobe River, as well as a full day Victoria Falls day trip are included in this Botswana safari package. This allows you to relax a bit and be a passenger for a few days.

The Chobe National Park is home to over 40 000 elephants and watching them wallow in the Chobe River will surely become a highlight of your Botswana safari. In the afternoon a river cruise will allow you to see hippos, crocodiles and more elephants (amongst others), as they come down to the river for their evening drink. (Breakfast and dinner included)
Day 10: Victoria Falls day trip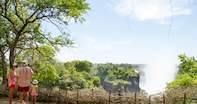 This morning you leave Kasane and head to Victoria Falls on a day excursion. During your time in Victoria Falls, there will be the opportunity to view this natural wonder or take part in a number of adventure activities. Victoria Falls is known as "The Adventure Capital of Africa" and there are many highlights to choose from. You will return to your safari lodge in Chobe to overnight. (Breakfast and dinner included)
Day 11 - 12: Long drive back to Johannesburg via Francistown

After a few days of being a passenger, it is time to get behind the steering wheel and start making your way back to Johannesburg. A long drive awaits with a stop over in Francistown. After a good night's rest leave Francistown and cross the border back into South Africa. (Breakfast included)

Distance approx. 500km - driving time approx. 6-7 hours to Francistown Distance approx. 680km - driving time approx. 7-8 hours to Johannesburg
Included
2 nights' hotel accommodation in Francistown on a bed and breakfast basis
2 nights' accommodation at Nata Lodge in a thatched chalet on a half board basis
2 nights' riverfront accommodation at Thamalakane River Lodge on a bed and breakfast basis
2 nights' riverfront accommodation at Divava Okavango Lodge & Spa in the Caprivi on a half board basis
3 nights' lodge accommodation at Chobe Bush Lodge on a half board basis
Sunset boat cruise on Thamalakane River and Chobe River
Guided Salt Pan drive via the Nata Bird Sanctuary (3 hours)
Guided game drive in Chobe National Park (3 hours)
Victoria Falls day trip
Not Included
Park and conservation fees except during guided activities
Vehicle hire, possible toll and border crossing fees
Meals and drinks not specified
Optional activities, spa treatments and all other extras to be settled direct