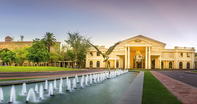 Gaborone is the capital of Botswana, and also the largest and fastest growing city in the country. Gaborone is located at the South African border and access to the city is by road or air transfers. This capital city is the perfect transit destination and can act as an overnight stop.
Gaborone is an urban city, which is home to shopping malls and government buildings. On the outskirts of Gaborone lies the villages known as Phases and Extensions, ideal to visit for a first-hand cultural tour. The city is features modern buildings and architecture and is developing at a fast pace.
Gaborone accommodation is offered at luxury hotels. Activities in Gaborone includes golfing, sightseeing, cultural tours and game drives at reserves close to Gaborone. See below for Gaborone hotels which offer a starting point for many Botswana safari tours.