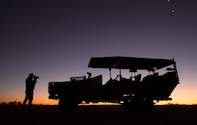 Glossy tourist brochures offer an experience of the 'Real Africa' where you can feel the pulse of the Africa of old throbbing through your veins. Bouncing around in a Landrover and then retiring to your air-conditioned room is a strange way of feeling the pulse of Africa.
It is true to say however that many visitors are coming to Africa now because of the changes. In the past they were wary of visiting darkest Africa but with the changes they feel more secure in visiting the game parks.
Preserving Africa for Future Generations
The majority of people cannot afford to appreciate these areas now due to the high price tag we have placed on visiting these areas - the price tag under the guise of preserving the areas for future generations.
The reality is unpleasant and is not discussed, but in truth this promise of preservation covers up materialism and greed. The people concerned are feted for their endeavours, but there is a hollow sound to it all as the truth is not pleasant to discuss. Money now dictates the future of conservation and it is the people with the money that have the final say in conservation matters.
We have set a price on/to the appreciation of wilderness and have hereby excluded the majority of people. We are told that the wilderness areas are been protected by the control held on them. Will our descendants be in a better position to have the experience?
Philosophers say that we need to rekindle our link to the earth. We have put a price on this experience and developed the conditions as to how to experience it. It is realm of the privileged few whose philosophies are tied to their means [ability] to be there.
'I know no subject more elevating, more amazing, more ready to the poetical enthusiasm, the philosophical reflection, and the moral sentiment than the works of Nature. Where can we meet such variety, such beauty, such magnificence?'
James Thomson.