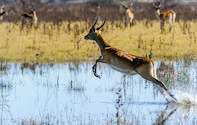 I have worked and traveled in most the wilderness areas of Botswana - Savuti, Nxai Pan, Nxabega, Okavango, Moremi - names of legend where the echoes of an ancient wilderness sounded and for ten years I drifted in this paradise. During this time I heard stories and rumours of a fabled place called Mombo but due to the place being controlled by my sworn enemy I resigned myself to the knowledge that I would never get to see this fabled land.
Return to Mombo
There was turmoil. As the seasons passed, as they always have done, the human involvement had proven to be shaky. Fragile ego's had caused one of the greatest wilderness areas on earth to be soiled. But even man's selfishness can have its positives for it was this situation that allowed me to get to Mombo.
Here I discovered a wilderness caught in a crucible. In the year that I was at Mombo I began to understand our species better, and I became concerned for the first time. All my readily accepted notions were shattered here. It was here that I began to understand my fellow human beings' degenerated ideals.
Mombo was one of the most expensive safari lodges in Africa - a place where only the very wealthy could afford to visit - and with the wealth came the attitudes and ideals - to get what they paid for. There was little appreciation of the wilderness here.
Despite the company's lofty promises of not running with the mainstream, they began to compete for the glossy pages of lifestyle magazines. Recent lodge designs bear this out. Interior designers are paid vast sums to bring 'style' into the wild areas - and we move further away from the true meaning of wilderness. Complaints about faulty hairdryers and loose taps come with this new ideal.
I had been at Mombo for a few months when I wrote in my journal: Safari companies stress the need to protect the environment for future generations and yet are caught up in the capitalistic / materialistic management of human affairs.
As a company grows and faces new challenges the perceptions of the players change with the challenges. Ideals are forgotten in this progression.
Today Mombo is by far the most expensive lodge in Africa!
By Leigh Kemp