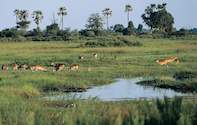 © Duba Plains
Struggle for survival
There is a constant struggle to survive the harsh realities in the African wilderness, and in the Okavango Delta these realities often meet in contradiction, for here in this seeming place of plenty is a struggle far greater than anywhere else.
Botswana's Okavango Delta is a place of immense natural beauty, but also a contradiction for in the dry season the water levels on the plains are at the highest. This is due to the delta water coming from the highlands of Angola some 1700 km away.

Sure and erratic as the seasons the water arrives
Greening the floodplains from a dry season brown
From hooves kicking up dust to spraying water
The dry sage scent mingles with wet urine stained earth
Caught in ever dwindling pools the flood is too late for some
Sucking the last moisture from rain nourished mudholes
Passing of the Seasons

In the Okavango delta the seasons are different to other parts of Africa, even more dramatic in their difference with water flooding the plains at the height of the dry season.

'We watch the water spreading, marking a new point each day. It pushes, seeps and oozes its way into old mud-holes and side channels.
Then one day you wake up and realise your life is surrounded by water. Even though you have been watching its progress, it has become part of the daily routine.
Then you begin to notice the drying up.'

The floodplain - Somewhere in the Okavango

A trickle through the dry
creeping
tentative
celebrated by sound
rising with the days
then on a day
it was always there

a trickle
barely noticeable
in the lush green
slowing
seeping away
celebrated by an orgy

then the greens
begin to brown
Echoes of an ancient song - Rain
The annual rains have ensured the renewal of the wilderness for eons, and each year the approaching rainy season is a time of anticipation.
The sun rises into a storm-fronted sky lighting the foreground, vivid against the deep grey-blue and the air is silenced by a promise, anticipation.
A whisper of rain, barely a caress, scents the air, permeating the senses, a sensual awakening to a new season.

Flashes ....rumbles ....in the distance ....approaching ....carrying the scent ... the expectation ........closer ....... the fury ........passion .................passing over ... ..roaring frustration ......high anticipation of the new season .........and the wind carries the scent.

A wild storm rages .......noise .......and wind ..........a spilling ...... barely ..... a frustrated retreat.

The noise .......the fury .....then the silence ............the moment ........agreement ............a consenting ............tentative .......... .......a sudden spilling ........a dampening of the dust ........the scent of spent passion .........there are deep sighs ...........the moment has gone ...........the wait for the new season is over ..... but the wanting is deep .....

The morning of a night storm, fresh, damp, scented, and the sun rises in a washed sky.
In an evening of an afternoon rain the frogs celebrate the moon, clean in a washed sky, heralding the night and the silence beyond.
Echoes of an ancient song - Water
Surface ripples of an evening rise, a barely audible splash of a denizen's escape, the continual plop of a night feed or a slimy mud orgy of a struggle.

Moments within a season - when the rains stayed away
Jan 09: 'voluptuous shades of green and water glistening in dance'
Jan 26: Greens have faded to heat stroked dull, sprinkled flowers have shut their beauty from the grey, unwashed sky and dust celebrates the broken source, dancing at the beat of hoofs and the whispering breeze.
Feb 5: The exuberant embrace of the greening loosens, wavering to grey
Feb 6: A shadow stills the heat, momentarily, reliving an exuberance of deep greens and washed light.
But it passes

Another sunrise
Breaking the horizon to paint the dawn, scattering silhouettes on the water, splashing leaves in weak shades of orange through yellow, and as the sun pulls the silhouettes to the shore the shades turn to nature's green.

Summer Storm Evening
Clouds compete on the horizon, brooding thunderheads, splashed by the spent dancing in release, throw their frustration at the sky before all are collected into an enchanted evening of shades of spattered reds and dark

Dust, mist and the whispers of a season
Light is a silhouette in dust harvested of a season, Light is a silhouette in mist reflecting a moment, Light is a silhouette in light reflecting itself...

Leigh Kemp