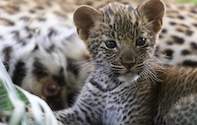 © Michael Poliza
The female was pregnant again. This was her fifth pregnancy and she had lost all her previous young at an early age - two were killed by hyenas, one presumed killed by baboons and the other two disappeared never to be seen again. [But we sensed this one would be different.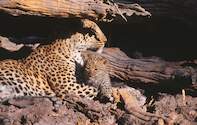 ©Lee Kemp
We first saw the Leopard cub at about eight weeks. It was hidden in a log in an open stretch of ground. A brief glimpse was all we got until the mother came back and lay down at the log. After a few moments the little one showed herself to us. From that moment on the sightings were limited to the times when the guests were on game drive were not with her. These times were in the heat of the day - when she would often be hidden - and when another dramatic sighting had taken the guests away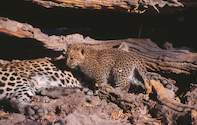 ©Lee Kemp
From the start she was a star - filmed by National Geographic - and she acted accordingly. We watched as she developed from a cute bundle of spots into a lively trainee and finally into adulthood.
There were moments of concern when she was young, such as one evening when hyenas were moving toward her hiding place and other occasions when baboons were feeding twenty yards from her. It is a known fact that baboons and hyenas would have killed the cub with no hesitation.
She soon became so accustomed to vehicles that she would wander up to them and peer up at the people staring down at her.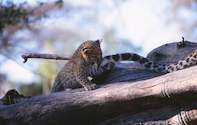 ©Lee Kemp
Her mother was a supreme monkey hunter. She would tree a troop of monkeys and then start climbing up the tree herself. The monkeys would end up in the uppermost branches before losing their nerve and heading for the ground where the leopard would catch them. Logo learnt well from her mother as she became an extreme monkey hunter herself.
Logo was often observed climbing into trees as if on a definite mission and we once observed her climbing into a tree in an attempt to get at a francolin. The bird flew off before she got close. Slightly bemused she stayed in the tree for a long time searching for the bird.
Later she became so comfortable around the lodge that she was once observed walking on the bar counter.
Two years on: Her mother has given birth to two more cubs and pushed Logo away from the territory. She is now observed moving around a distance from camp, away from her mother's home range. After the stardom of her youth she is now just another leopard surviving in the wilderness.

Leigh Kemp