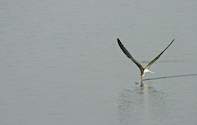 © Lee Kemp
The African Skimmer... previous attempts were met with frustration as the skimmers were always sitting on the sandbanks and, except for occasional short flights, I could ever photograph them in the air or 'skimming' along the water.
There are some amazing photographs of African Skimmers gliding across the water but after many years trying to get the ultimate shot I resigned myself to the fact that I would have to appreciate the images of others. And then on my last trip to Botswana the conditions were beyond perfect with no wind, a balmy evening and skimmers gliding across the water.
The African Skimmer
The frustrations of twenty years seemed to melt away on that evening when, despite the concentration of elephants and other wildlife on masses along the river, the skimmers were passing the boat at regular intervals ....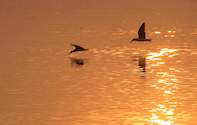 ©Lee Kemp
The sight of the profusion of wildlife was something to savour, a moment in time that exploded into a spectacular sunset, and I took it all in between the passing of the skimmers that were putting on a show.
Leigh Kemp