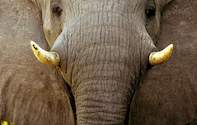 © Michael Poliza
The slaughter of Elephants for Ivory is one of the most heated debates in conservation circles today, with two opposing points of view. The solution lies somewhere in between.
Legal Selling of Ivory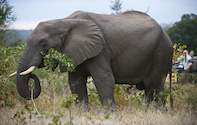 ©Roger de la Harpe
The Convention on International Trade in Endangered Species of Wild Fauna and Flora (CITES) approves the export of elephant ivory from Botswana, Namibia and South Africa every so often. Seen as the only countries where the elephant populations are growing many however see the permission to sell as misguided.
The decision allows for the controlled sale of ivory. It is a decision that is always met with outrage in some quarters as there are parties who claim that the renewal of the ivory trade will cause elephant poaching to increase. These parties fail to understand the problem of elephant overpopulation endangering the southern African parks and reserves and the fact that elephant poaching went underground after the ban on ivory sales was put into place - there was no let up in the poaching.
Does the Ivory Ban Help Control Poaching?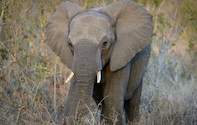 ©Roger de la Harpe
They point to figures that show where in some parts of Africa the incidents of poaching decreased after the ban without realising that the decrease was due to the numbers in these parts been so low that poachers were having more difficulty finding elephants. They use figures to show the increase in elephant numbers in Africa since the ban was imposed - a very false figure as they take into account the growing elephant populations of southern Africa.
The famous statement that reads 'in 1970 there were two million elephants in Africa - now there are only 600 000' is misleading as it paints a picture of apocalyptic proportions. The word only should be taken out of the phrase to let it read 'In Africa there are 600 000 elephants' and then the question must be asked 'Can Africa support 600 000 elephants today.' The answer may be enlightening to many.
Leigh Kemp