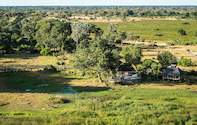 The arrival of the floodwaters of the Okavango Delta in Botswana can never be predicted and each area is affected in different ways each year the flood arrives.
Visions of the Okavango Flood
'We watch the water spreading, marking a new point each day. It pushes, seeps and oozes its way into old mud-holes and side channels. Then one day you wake up and realise your life is surrounded by water. Even though you have been watching its progress, it has become part of the daily routine.
The water moves slowly, deliberately, a gentle forward push saturating the dry earth before moving on. Time is immaterial, told only by the passing of night and day.
May 12: the water creeps slowly past the camp
June 9: the fingers of the flood touch the back floodplain for the first time...
Okavango Floodplain
A trickle through the dry, creeping,
tentative
celebrated by sound
rising with the days
then on a day it was always there
a trickle, barely noticeable in the lush green
slowing
seeping away
celebrated by an orgy
then the greens begin to brown
March 5: Dawn
The splashing of a herd in flight awakens the senses to a change. The water has crept slowly through the grass, invisible, until now given away by the sounds of the splashing.
'The water is early' say those in the know, but it is only early in our memories.
Then the waters begin to recede
'The water is receding, revealing a new point each day. It is barely noticeable until one day a passing herd kicks up dust on the floodplain. Then you wonder how far away the new flood is'!
Leigh Kemp