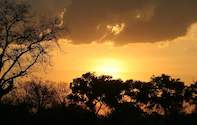 © Lee Kemp
My deep obsession with Botswana began at a very early age, the roots of which stemmed from a wandering uncle who hunted the wild lands of Africa, and who considered Botswana his favourite area, and from reading the Okavango Adventures of the legendary hunter Cronje Wilmot. Days on the farm were spent wandering the Botswana of my dreams...
A planned two year stint working in Botswana became 10 years as the seasons of this dramatic wilderness held me captive, but I was a willing captive. The Okavango Delta was my initial obsession but places like Savuti, Central Kalahari and Chobe added to my affair with Botswana.
Throughout my years in Botswana I recorded my experiences in a plethora of notebooks, loose bits of paper and even on old food cartons. Scratching through these ponderings today I find a collection of moods and ideas, some still making sense whilst others are devoid of logic.
Putting the pieces together
During the time of scanning the images I was perusing my notebooks - and putting the pieces together. What has come of it is collection of thoughts and notes on the wilderness of Botswana, and wilderness in general. I cannot be certain that anything is the same as depicted in the images for change is an integral part of the wilderness, especially so in the Okavango where the flow of water each year alters the make-up of the place.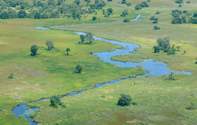 ©Shem Compion
What I can be certain of is that some of the images portray features that are no longer there. The islands of the delta change from year to year. There are places in Botswana, or even moments, so achingly beautiful that it is difficult to reason that they are real. There were times when I was living there that I would wonder if this was not a creations masterpiece.

Leigh Kemp