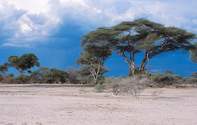 © Lee Kemp
The seasons of the African Wilderness define the rhythm of this ancient land, and many people live their lives by the moods of the seasons.
We visit the wilderness areas of Africa during the best season as prescribed by travel experts and are often disappointed at the experience, an experience that we expect to match the promises of the glossy magazines and marketing jargon.
Because of our present understanding of what the wilderness should provide us we miss the integral aspect of the changing seasons. This is an aspect of Africa that not many get to experience due to the fleeting visits to the wilderness.
Living the Changing Seasons
During my time of living in the wilderness I recorded the changing seasons in notebooks and on countless pieces of paper. This was not done for any reason other than an attempt at understanding the workings of the wilderness a little better. Among these observations are a multitude of verses and short phrases that indicate my mood at specific times of the seasons.
Through my guiding years I visited a number of reserves at regular intervals through a year and was able to record - mentally and on paper - the many moods of the wilderness. The mood of a wilderness day is told in the season and the state of the day. During the dry season the mood is one of high emotion and at the first rains the mood is elation.
My own mind and mood is shaped by the seasons. Towards the end of the dry season I have a deep yearning for the new season and the scent of first-rain damp. In the heat of summer I yearn for the biting cold winter mornings. My mood is shaped by these yearnings.
The Seasons Move on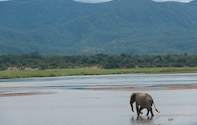 ©Shem Compion
The following verse was formed during a trip to Zimbabwe's Hwange National Park. The park is a dry region that provides water for animals during the dry season by means of a number of man-made waterholes situated around the park. The verse is based on one particular waterhole near the main camp but it could be any waterhole in many wilderness areas around Africa.
In the dry season: I have seen it in the dry / bare earth, bare, seemingly lifeless /Trees ripped and stunted, stripped / a refuge from the harsh surrounds / A magnet to thirst, surroundings trampled to dust / updating an ancient verse In the rainy season: I stayed a while in the verdant plenty / Carpets of grass, trees in splendour / All colours of green / Forests pulled from their protective slumber / Pans glistening in light, bursting in fullness / and the seasons move on.

Leigh Kemp