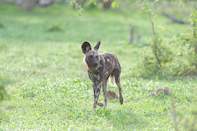 Botswana Wildlife Guide on Wild Dog
Best Places to See Wild Dog
Linyanti, Moremi, Chitabe in Botswana.
Bad Reputation
Wild dogs have had a bad rap in the past with many hunters and even conservationists sharing the view of the legendary J.P. Pretorius: I have always disliked wild dogs intensely, and have endeavoured to exterminate them to the best of my ability. These animals are hated and loathed by all who come into contact with them and the only thing I can say in their favour is that they are remarkable hunters.
He was right about one thing: they are remarkable hunters. In fact Wild Dogs are easily the most successful predators when it comes to kill percentage rates. The previous quote from Pretorius is also one of the main reasons that the wild dog is one of the most endangered predators on the continent.
Another reason for the low numbers is that only the alpha male and female will normally breed and with limited space in the wilderness today this social trait is severely limiting. Wild Dogs are also very inquisitive and this trait has also led to danger - especially at the hands of humans.
Wild Dog Population
Botswana is considered to have the largest population of wild dogs in with more than 700 of the presumed 3000 left.
Hunting and Diet
Wild Dogs are the predator that invokes the most reaction from prey species. Personal observations, on numerous occasions, have shown antelope in panicked wide-eyed flight when wild dogs are in an area.
It was always believed that Wild Dogs hunted in relays but this is not the case. Individuals in a pack will chase after their own targets and when they lose the chase they will take up the chase with another member of the pack. It is this latching on to another chase that probably inspired the relay-hunt theory.