© Guests enjoying sundowners at the Okavango Bar
Much has been written about the spectacular wildlife of the Okavango Delta in Botswana but there is a side to this special place that is mostly overlooked - the ways of the light.
By Leigh Kemp
Okavango Moments
There are
many aspects to the Okavango
but it is in the permanent waters where channels and lagoons showcase an often overlooked part of this unique ecosystem - the constantly changing light and moods of the waterways.'A shaft of the late afternoon light catches the tiny kingfisher in silhouette against the
dark shadows on the reeds in the channel
, a perfect moment in time. In the permanent delta these moments are fleeting in a particular place, but are occurring constantly somewhere along the channels.'As the
sun sinks towards the horizon
the channels of the Okavango begin to portray a range of moods in their serpentine meanderings. With every turn the tightly vegetated sides of the channels exhibit different moods and lighting, from golden exuberance to dark foreboding'.
A sense of place
Racing through the channels in a motorboat does not allow visitors the opportunity to
experience the sense of place
of the permanent channels of the delta, and when the boat does come to a standstill to have a closer look at something that has been spotted this sense of the place still does not come into play.It is only when the
boat is drifting silently on the water
or when your senses are opened to the experience that the play of light takes over the moods. There is a sense of peace here in the winding channels and lagoons but it is a peace that is tempered by the constantly changing light.Even in the dark and brooding corners where the light has disappeared is a peace that comes from the knowledge that around the corner the light displays an exuberance that is often
enhanced by the flight of a kingfisher
or egret. The senses are constantly under attack by a beauty that changes with each passing moment.
Food for Poets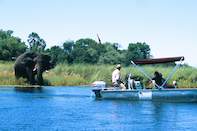 Although the Okavango Delta is visited by guests who are looking for the thrills of
big game and wildlife action
, few will be unaffected by the unexpected experience the permanent delta offers.Ideal for poets and dreamers the light and moods of this amazing place will leave a lasting impression on everybody and allows for the soul to be shaken and slowly restored.
Discover the Okavango Delta Your Way

Whether it is by mobile safari or luxury lodge fly-in, you will learn why this is one of Botswana's most sought-after safari destinations:

Original Elephant-back Safari
Premier Romantic Fly-in Safari
Romantic Okavango & Savuti
Classic Family Fly-in Safari
Mobile Camping Explorer
Journey Through Botswana Series
Botswana Journey
Chobe River Journey
Kalahari Journey
Maun Journey
Moremi Journey
Okavango Delta Journey
Savuti & Linyanti Journey