Up until fairly recently this route was very difficult, travelled only by those with sturdy 4x4s and extra time in their itineraries. It has now been tarred right the way through and, because it offers a pleasant alternative to the busier Gabs-Francistown road, it will in all likelihood become the more popular way of reaching the Okavango
By Ian Michler
The Royal Route via Serowe
The turnoff is at Palapye, and from there it's almost 500 kilometres before this road rejoins the main one, about
150 kilometres from Maun
. There are numerous highlights along the way.Serowe, otherwise
known as the Royal Village
because of its connections with the BaNgwato and the Khama dynasty, is worth a quick stop. Climb Thathaganyana Hill, nothing more than an outcrop overlooking the town, to visit the Khama family cemetery, but out of respect first ask permission from the Chief's office at the foot of the hill.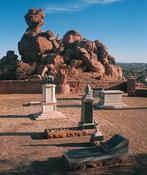 The Royal Cemetery, resting place of the Khama dynasty, is atop Thathaganyana Hill in Serowe, reputedly the largest village in southern Africa
This is the resting-place of Sir Seretse Khama, Khama III, Tshekedi and Sechele I. Keen historians, who want to find out the full story of their role in Botswanan history, can visit the Khama III Memorial Museum in town.
The Khama Rhino Sanctuary is another 40 kilometres further on and, with a campsite and comfortable chalets, it is the best overnight stop along this route.
Started in 1993 as a trust by residents and leaders of the local community, the sanctuary has played a crucial role in the efforts to conserve Botswana's rhino population. Visitors have a great chance of seeing at least one of the 22 white rhino (there is also a single black rhino), as well as a variety of other plains game species, including oryx, red hartebeest, springbok and eland.

The United Congregational Church of South Africa is known to the locals as 'London' because it was built by the London Missionary Society back in 1912.
Orapa and Letlhakane, two unappealing diamond mining towns, follow - but avoid both of them. Next up are the southern reaches of the Makgadikgadi Pans and the villages of Rakops and Mopipi. Maybe it's the isolation, or the first real glimpse of the approaching wilderness, but this section of the trip always has a sense of beautiful desolation about it.
The landscapes suddenly look wilder, the villages more ancient and the people more traditional. Resist the urge to race for Maun. Although there are fuel pumps at Rakops and Mopipi, they have been known to be empty on occasion.
Serowe and Letlhakane are the more reliable fuel stops. For those who can't make Maun, Meno a-Kwena Tented Camp, situated along the Boteti River approximately 20 kilometres before the Maun road, is a charming stopover.
With the most awesome views from the swimming pool overlooking a water hole on the edge of the Makgadikgadi Pans National Park, guests need merely to venture into its cool waters to watch the procession of zebra drinking below. Maun is just an hour away from here.

The Morupule Colliery Power Station is a landmark on the road between Palapye and Serowe.
Roads to Other Places