© Public market. Francistown
Back when the Okavango was still a pioneer-type destination, the only way to get to Gaborone was the Gabs-Francistown route - that's if you didn't want your vehicle to be completely ruined from attempting to cross the Kalahari. Over the last decade, as the country's roads have been tarred, alternative routes have opened up, making this traditional option a lot less appealing.
By Ian Michler
Gabs-Francistown Route

The road is busy, often congested with commercial trucks and large buses, and, because wayward livestock and pedestrians are always wandering along its verges, it has never been particularly safe to travel.
Mahalapye and Palapaye
You'll
pass the towns of Mahalapye and Palapaye
in a blink, unless you need fuel, in which case Palapaye is the better option. You can make it to Maun in one day, but, if you don't, the best overnight stops are Camp Itumela in Palapye and Nata Lodge in Nata. Both offer clean and comfortable chalets and camping with self-catering and bar facilities.

An alternative route to enter Botswana is at the Martins Drift border post and head for Francistown via Selebi Phikwe. For late-starters leaving Johannesburg, Kwa Nokeng, a small lodge and campsite immediately across the border, is a comfortable place for you to spend the night.
Visit any taxi rank or mall parking lot and there is likely to be a game of morabaraba (left) on the go. With a population of about 110,000, Francistown is the country's second largest urban settlement. It is also reputedly the oldest, having been established as a mining community during the 1880s when gold prospecting took place along the banks of the Shashe River.
The town is named after Daniel Francis, one of the early mining concessionaires, and ever since then the commercial traditions of Francistown have continued.
Today Francistown remains a hub of light industry, textile milling and leather manufacturing. Palapye, an hour's drive south of Francistown, and Nata, 90 minutes closer to the Okavango, are ideal as overnight stops.
Trans- Kalihari Highway

The Selebi-Phikwe road joins the main Gaborone Francistown road at Serule.

The main market in Francistown

Billboards are a common feature along the Gabs-Francistown route.

The High Court in Francistown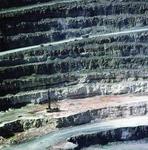 Slicing across the vast hinterland of the Central Kalahari, the Trans-Kalahari Highway offers the most leisurely road route to the Okavango. When entering from the South African side, use the Pioneer's Gate border post, avoid the small, nondescript towns of Lobatse and Kanye, and hit the open road.
With long, lonely stretches of tar, this highway takes you on a remote countryside crossing, as it heads west and then north.
Jwaneng, a modern town built solely around a large diamond mine (tours are allowed only with a permit obtained by prior arrangement), and Kang, a typical agricultural village, offer the two fuel stops this side of midday.
Otherwise it's Ghanzi, another 250 kilometres on.
Business travellers, families with children, groups of friends and couples will find something to enjoy during a visit to this Botswana hotel in Francistown...
more