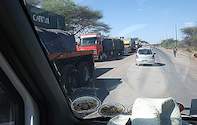 Border post Kazangula to Kasane
When self-driving into Botswana from neighbouring countries give yourself enough time to clear customs and immigration at border posts, so you can get to your destination on time.
Always remember that there are two crossings at each border control point, an exit and an entry. Cutting it fine at in arriving at the exit and entry points will not guarantee entry or exit into Botswana - you may be forced to sleep at the border post.
Also remember to make sure that you have the correct vehicle papers before you get to the border control point. To assist you in planning your trip here is a list of all border crossings and times they open and close.
Botswana / South Africa
| Border Posts | Business Times |
| --- | --- |
| | |
| Pont Drift (Tuli) | 07:30 - 16:30 |
| Platjan | 08:00 - 16:00 |
| Zanzibar | 07:00 - 18:30 |
| Martins Drift | 06:00 - 22:00 |
| Parr's Halt | 08:00 - 16:00 |
| Sikwane | 07:30 - 16:30 |
| Tlokweng | 06:00 - 24:00 |
| Ramotswa (Bridge) | 07:00 - 18:00 |
| Pioneer Gate | 06:00 - 24:00 |
| Ramatlabama | 06:00 - 22:00 |
| Phitshane Molopo | 07:30 - 18:00 |
| Hereford / Bray | 07:00 - 16:30 |
| Makopong | 07:30 - 16:30 |
| McCarthy Rust / Tshabong | 08:00 - 18:00 |
| Middlepits | 08.00 - 16:00 |
| Bokspits | 08:00 - 16:00 |
| Two Rivers | 07:00 - 16:00 |
Botswana / Namibia
| Border Posts | Business Times |
| --- | --- |
| | |
| Mamuno | 07:00 - 24:00 |
| Mohembo | 06:00 - 18:00 |
| Ngoma | 07:00 - 18:00 |
Botswana / Zimbabwe
| Border Posts | Business Times |
| --- | --- |
| | |
| Kazungula Road | 06:00 - 20:00 |
| Pandamatenga | 08:00 - 17:00 |
| Maitengwe | 07:00 - 16:30 |
| Ramokgwebana | 06:00 - 22:00 |
| Matsiloje | 07:00 - 16:30 |
Botswana / Zambia
| Border Posts | Business Times |
| --- | --- |
| | |
| Kazungula Ferry | 06:00 - 18:30 |