Northern Explorer Mobile Safari Experience
This safari holiday package combines the best of Northern Botswana that is an absolute must. This Botswana tour is done at a leisurely pace and there is no rush to get through the game parks and nature reserves. On this mobile camping tour you will spend 3 nights at one bush camp before moving on to the next highlight.
Each bush camp is situated in a different scenic area so you can experience all Botswana has to offer. This tour allows you to travel in a small group with an exceptional guide, so that you will enjoy your safari holiday and the best Northern highlights of Botswana.
Some of the highlights of this tour include: a short flight over the Okavango Delta, a boat cruise on the Chobe River, a stay on the Khwai River concession and of course the huge herds of Elephants in the Chobe National Park.
Day 1: Johannesburg – Maun – Okavango Delta
After arriving in Maun from Johannesburg, you will be transferred by light aircraft to the Moremi airstrip. This scenic flight will provide you with your first view over some parts of the Okavango Delta – a great way to see large herds of animals such as Elephants. Once you have landed you will meet your safari guide before setting off on an afternoon game drive where you will explore the surrounding wilderness.
Day 2-3: Moremi Game Reserve
Moremi lies in the eastern extremity of the Okavango Delta, a place where the wildlife and birding are excellent. Moremi Reserve is known for its Elephant population and Painted Hunting Dog sightings. You may see large herds of Buffalo which are closely shadowed by several prides of Lion.
Over the next 2 days you will enjoy game drives and delight in a motor boat tour along the waterways of the Xakanaka Lagoon which is a wonderful experience – you may even spot the rare Sitatunga antelope and the rare Slaty Egret.
Day 4: Moremi Game Reserve
After an early morning breakfast, you will take a slow drive through Moremi Game Reserve towards the Khwai Community area with its Mopane woodlands, riversides and floodplains. It is one of the most scenic areas of the Okavango and the slow game drive provides time to stop at the Dombo Hippo Pools, where you can enjoy the antics of these large pachyderms. You may even see the endangered Wild Dogs in this area.
Day 5 – 6: Khwai Community area
The Khwai River forms the boundary between the Moremi Reserve and the community area. The following 2 nights will be spent at an exclusive campsite in the area. You will enjoy exciting guided game drives to see the regions large Buffalo herds, Tsessebe and Lions. Night game drives provide an exciting opportunity to see the regions nocturnal inhabitants, such as Aardvarks and Leopards.
Day7: Khwai to Savuti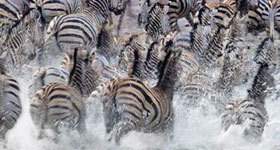 Today you will head further north en-route to the Chobe National Park where you will spend 3 nights at an exclusive campsite in the Savuti region, home to the disappearing river and plenty of wildlife such as Zebra and Elephants. Your drive on this day will take you through all the different habitat types of Botswana. This is also one of the best opportunities for you to see Cheetah.
Day 8-9: Savuti (Chobe National Park)
The Savuti Marsh has been the stage for many of the most dramatic wildlife documentaries in Africa. The area is famous for the interaction between Lion and Elephant. There was a pride of about 30 Lion that at one stage hunted Elephant in the region, although this behaviour has not been seen for a while. You will enjoy game drives and also a walk to see ancient Bushman paintings.
Day 10: Savuti to Chobe River
Today you will leave Savuti and travel along the Chobe River passing through a region that is home to many Sable and Roan antelope. You will arrive at the safari lodge and have lunch before enjoying a leisurely afternoon boat tour, after which your mobile safari ends. In the afternoon you will catch a road transfer, crossing the border to Victoria Falls in Zimbabwe or Livingstone in Zambia.
Day 11: Victoria Falls
The best view of the Victoria Falls is from the Zimbabwean side. You will have a full day to enjoy all the leisure activities that Victoria Falls offers. Set-off on a Zambezi River cruise, enjoy an Elephant-back Safari or go for a thrilling walk with the Lions (encounter activity) during your stay in Victoria Falls.
Day 12: Victoria Falls – Johannesburg
After your breakfast you will have a road transfer to the Victoria Falls Airport or Livingstone Airport for your scheduled flight to Johannesburg, where your trip will end.