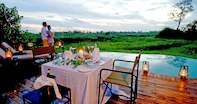 © Romantic sundowners at Baines Camp
Treat yourself to a safari holiday in beautiful Botswana. Our Luxury Botswana Safari Packages allow you to enjoy the wilderness in style while having memorable wildlife encounters.
Our luxury Botswana safari packages offer you a more refined safari experience. The camps are finished to a higher standard and may offer more safari activities. These safari package take you to remote and untouched locations and allow you to enjoy your safari in style.

Head out on tranquil game viewing expeditions by boat and traditional mokoros. Explore the palm islands and witness the amazing wildlife of Moremi and Linyanti.

Witness the incredible interaction between predators and their prey while on this exciting safari in the lush wetlands of the Okavango Delta and Linyanti.

Explore the varied landscapes of Savute, Khwai and the Okavango Delta, home to a vast array of wildlife including large herds of Elephants.