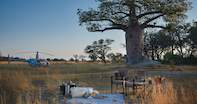 © Absolute indulgence and style in the middle of the bush at Eagle Island Camp
For the ultimate safari experience where you stay in elegant luxury lodges in stunning locations with our Premier Botswana Safari Packages.
From stylish and luxurious accommodation in the best lodges, and combining excellent service, with tailor-made activities in the most exclusive game viewing regions, our Premier Safari Packages all add up to a safari experience that cannot be matched anywhere in Africa.

The Original Elephant safari in the Okavango Delta, this safari allows you to experience the bush the way an Elephant does while staying in style. Plus game drives and tranquil mokoro excursions.

Now you can get up close and personal, on a first-name basis, on walks with these gentle giants of Africa, in the Okavango. Then visit Chobe where you can witness vast herds of Elephants.

Luxury Botswana Wildlife Safari combines luxurious accommodation in Botswana with exceptional service, thrilling activities and spectacular wildlife sightings.