Classic Self-drive & Okavango Fly-in Experience
This Okavango Gateway Safari package allows you the flexibility to travel in a four-wheel-drive vehicle or a sedan, to Maun from where you can fly into any number of camps in the magnificent Okavango Delta or spend a few days in Maun before heading back home.
This self drive safari can be combined with one of the other self drive safaris through the Northern parks of Botswana. Maun is known as the gateway of the Okavango Delta and any number of options available to travellers.
The Okavango Delta is a watery wilderness of islands and reed filled channels, which you can explore in a variety of ways. In a mokoro or traditional canoe, your poler / guide navigates the paths while you take in the scenery and observe African wildlife at the water's edge. At the end of your Botswana tour you spend a night at the Khama Rhino Sanctuary.
Day 1: Johannesburg – Nata
Today you will have to leave Johannesburg early, as it is a long drive to Nata on the edge of the Makgadikgadi Pans. These are the remains of one of the largest salt pans in the world. Large herds of Zebra migrate to feed on the green plains after the rains, and thousands of Flamingos gather when the pans fill. Here you will stay overnight in a comfortable safari lodge.
Day 2: Nata – Maun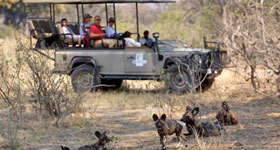 Today you will explore the area around Nata and visit the salt pans before leaving around midday for the 3 hour drive to Maun. From Maun there are a few options to explore – you may want to take a scenic flight over the Delta or you may fly into one of a number of lodges and safari camps in Northern Botswana.
Day 3 & 4: Okavango Delta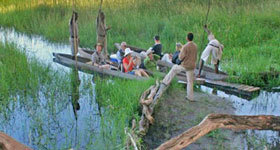 Today you will fly into the Okavango Delta, marveling at the rich patterns of this wonderland. You will arrive at your safari lodge in time for lunch before preparing yourself for your afternoon activity which could be a game drive or boat trip to get a feel of the area. The Okavango is one of the world's most beautiful regions and time spent here is worth a lifetime of memories.
You will have time to relax before the afternoon activity. Sundowners in the bush is one of the highlights – as dusk settles into night and the sounds of the nocturnal creatures rise in intensity.
Day 5: Maun – Serowe
Today you will fly out of the Delta and pick up your vehicle for the drive south to Serowe for your overnight at Khama Rhino Sanctuary. It is here where the last few Rhinos in Botswana were brought to protect them from poachers.
Day 6: Return to Johannesburg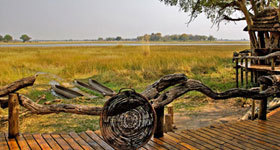 Today is the last day of your Botswana self-drive safari. At your leisure you will head back to South Africa on the 6 hour drive from Serowe.
Price list for Okavango Gateway: Classic Okavango Safari Package
6 Day Package: Self drive Car Hire Option
Prices are per person sharing
Season (yyyy-mm-dd)
Currency
Price from
2013-05-01 to 2013-06-30
USD
2190
2013-07-01 to 2013-10-31
USD
2470
2013-11-01 to 2013-11-30
USD
2190
6 Day Package: Self drive Own vehicle Option
Prices are per person sharing
Season (yyyy-mm-dd)
Currency
Price from
2013-04-01 to 2013-06-30
USD
2190
2013-07-01 to 2013-10-31
USD
2470
2013-11-01 to 2013-11-30
USD
2190
Classic Circuit Self-drive & Okavango Fly-in
This 6 day classic self drive is calculated for 2 guests in your own vehicle or with a car rental option ex/to Johannesburg, sharing en-suite accommodation with a fly-in to the Okavango Delta. The car rental drop-off is at Maun during your fly-in.
Rates are valid for 2012 / 2013 but may vary depending on the season and daily currency exchange rate.
Self drive Own vehicle Option
Included:
1 overnight at Nata in a double room in a twin chalet on Bed & Breakfast basis
1 overnight at Maun in a chalet on a Bed & Breakfast basis
3 days fly-in Okavango Delta on light aircraft ex/to Maun
Your stay is all inclusive of accommodation, meals tea, coffees and snacks, selected wines and spirits, soft drinks, scheduled activities, laundry service, government tax and levies
1 overnight at Serowe in a rustic chalet with self-catering option
Not included:
Car rental and fuel
All beverages and optional activities at Nata and Maun
Premium brands, imported wines, champagne, spirits and liqueurs during your stay in the Okavango Delta
All meals, beverages and activities during your stay at Serowe
Optional activities ex/to Maun – senic flights
Self drive Car Hire Option
Included:
6 days car rental category 2 x 4 Nissan X-Trail or similar ex/to Johannesburg
Unlimited km and super cover insurance
1 overnight at Nata in a double room in a twin chalet on Bed & Breakfast basis
1 overnight at Maun in a chalet on a Bed & Breakfast basis
3 days fly in Okavango Delta on light aircraft ex/to Maun
Your stay is all inclusive of accommodation, meals tea, coffees & snacks, selected wines and spirits, soft drinks, scheduled activities, laundry service, government tax and levies
1 overnight at Serowe in a rustic chalet with self-catering option
Not included:
Car rental fuel, across border fee Botswana, contract fee and additional driver fee
All beverages and optional activities at Nata and Maun
Premium brands, imported wines, champagne, spirits and liqueurs during your stay at the Okavango
All meals, beverages and activities during your stay at Serowe
Optional activities ex/to Maun – senic flights